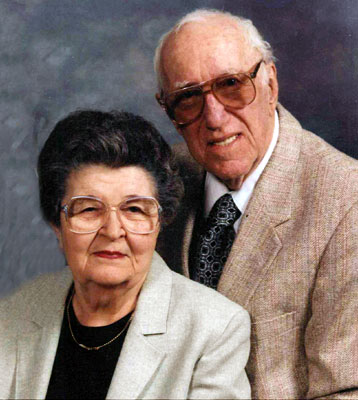 EDITH BARTH
"Together Again"
HUBBARD – There will be services held at 11 a.m. Friday, Nov. 1, 2013, at the Stewart-Kyle Funeral Home for Edith Barth, 95, who passed away Tuesday, Oct. 29, 2013, at Hospice of the Valley Hospice House in Poland.
Edith was born Nov. 16, 1917, in Youngstown, a daughter of Raymond and Josephine Arnaut Finn, and was a lifelong area resident.
Edith was a graduate of Scienceville High School, and a 1940 graduate of St. Elizabeth School of Nursing. She was a private duty RN for 45 years, retiring in 1985.
She was a member of the Central Christian Church of Hubbard.
Her husband, Rudolph Barth, whom she married June 25, 1942, passed away Dec. 12, 2000.
She is survived by her sons, William R. (Nanette) Barth, Richard L. (Carol) Barth, and David A. (Shelley) Barth, all of Hubbard; eight grandchildren; and 12 great-grandchildren.
She also leaves her sisters, Margaret McGarry of Vienna, Nora Latessa of Youngstown, and Shirley Espisito of Naples, Fla.
Besides her parents, she was preceded in death by her husband; and her sister, Elizabeth Finn.
There will be calling hours on Thursday, Oct. 31, 2013, from 5 to 8 p.m. and Friday, Nov. 1, 2013, one hour prior to the service from 10 to 11 a.m. at the Stewart-Kyle Funeral Home.
Edith will be laid to rest at Belmont Park Cemetery.
Memorial contributions may be made to the Central Christian Church, 44 South Main St., Hubbard, OH 44425.
Family and friends are invited to visit the funeral home's website at www.stewart-kyle.com to share memories and condolences.
Guestbook Entries
"R.I.P Edith.You will be missed."
» James Anderson on October 30, 2013
"This obituary fails to mention that Edith was an exceptional seamstress, hand sewing many beautiful quilts for her family and was still actively sewing at age 95. She was an avid reader of a variety of subjects, and she and her husband Rudy enjoyed many summer vacations traveling the country with their Airstream. "
» Susan Geer on November 1, 2013
"This obituary fails to mention that Edith was an exceptional seamstress, hand sewing many beautiful quilts for her family and was still actively sewing at age 95. She was an avid reader of a variety of subjects, and she and her husband Rudy enjoyed many summer vacations traveling the country with their Airstream. "
» Susan Geer on November 1, 2013
Sign the Guestbook
---