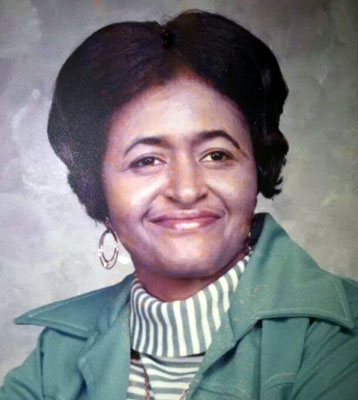 ALVAREETA JOHNSON
YOUNGSTOWN – Funeral services will be held at 10:30 a.m. on Saturday at the F.D. Mason Memorial Funeral Home for Mrs. Alvareeta Johnson, 84, who departed this life on Saturday, Oct. 26, 2013, at Northside Medical Center.
Mrs. Johnson was born on Jan. 12, 1929, in Youngstown, a daughter of Bishop Frazier and Naomi L. Driscall Scott.
She was a child care worker for Mahoning County Department of Human Services. Mrs. Johnson was a member of the New Hope Baptist Church, Friendly Group Choir and McGuffey Center Singers.
Her husband, Melvin L. Johnson, died in 1994.
She leaves a daughter, Yvette L. (Thomas) James; three brothers, Richard L. (Mary) Scott, James E. Scott and Wesley C. (Anita) Scott, all of Youngstown; a stepdaughter, Brenda Moore of Jacksonville, Fla.; stepson, Melvin E. (Jenny) Johnson of Youngstown; godchildren, Archie and Mozelle Keyes Leonard of Shreveport, La. and Elliot Hamilton of Youngstown; sister-in-law, LaVera Scott of Buffalo, N.Y.; her companion, Early Woodberry of Youngstown; four grandchildren, LaTishia Boatwright, Monique Donaldson, LaKisha Clinkscale and Janay Donaldson; two great-grandchildren; and an adopted son, Melvin Young.
She was preceded in death by her parents; a son, James S. Donaldson; three brothers, John Scott, Bernard Scott and Morris Scott.
Friends may call from 9:30 to 10:30 a.m. on Saturday at the funeral home.
Guestbook Entries
Rest in Peace
"rest in peace aunt reeta you will never be forgotten, I will always remember the good times, "
» robin jackson on December 1, 2013
Sign the Guestbook
---