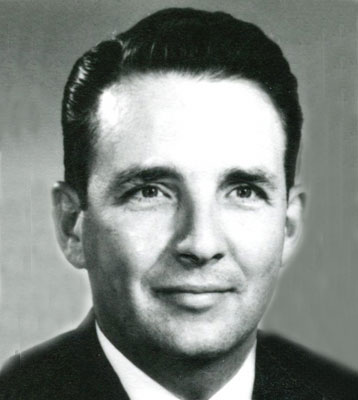 JOSEPH L. O'TOOLE
CORTLAND – Joseph L. O'Toole, 92, formerly of Brookfield, passed away peacefully at 6:30 p.m. Saturday, Oct. 26, 2013, at St. Joseph's Health Center in Warren.
He was born March 2, 1921, in Sharon, Pa., the son of Daniel L. and Anna B. O'Neal O'Toole.
He graduated from Sacred Heart Elementary School in 1935 and attended the Dana School of Music. He was a member of Sharon High Schools graduating class of 1939. He graduated from to the Shenango Valley Commercial School and later earned his bachelor's degree in Business Administration in 1954 from what is now Youngstown State University. He furthered his education at Pennsylvania State University, attended both the LaSalle Business Institute, and the International Accountants Society.
Joseph was an active lifelong member of the Sacred Heart Church of Sharon. He served many years as a parish finance leader and PACE teacher. He headed up many fund raisers for the school building, and improvements committees, and was instrumental in organizing their St. Patrick's Day dances. He was honored as a Knight of St. Patrick by Msgr. James Murphy in 1955.
Some of his memberships included the Knights of Columbus Council 684, Sharon, and the 4th Degree Assembly, the Benevolent and Protective order of Elks (60 years), the American Association of Musicians in both Sharon, Pa. and Youngstown, and the Veterans of Foreign Wars. Joseph served 15 years on the Board of Directors of John XXIII Home in Hermitage, Pa., including two years as Board President, and in various capacities for the United Way Charities.
Joseph started as a messenger boy at Sharon Steel Corporation in 1940 and advanced to the esteemed position of Assistant Vice President, Secretary, and Treasurer before retiring in l983, after 42 years of service. He was also an officer of Sharon Steel Products Company, Joanne Coal Company, and Carpentertown Coal and Coke Company. In 1973, he and his wife bought Roemer Industries Inc. (a maker of industrial nameplates) and Joseph served as President and Treasurer until selling to their son in 1986.
Joseph was part owner and vice-president of Wilson Metals Inc. from 1982 to 1986. Joseph was currently part owner and financial Vice President, Secretary, and Treasurer of AML Industries Inc. of Warren. He also served many years as President and Director of the Youngstown Association of Credit Management and in 1969, was elected as Director of the National Association of Credit Management.
He enlisted in the U.S. Coast Guard 1942 to 1946 and served as first class Petty Officer storekeeper and musician. Duty was in the 9th and 10th Naval Districts with three years overseas. During his service, he was honored to escort the First Lady, Eleanor Roosevelt.   To say he was an accomplished musician would be an understatement. He played both saxophone and clarinet and was a member of many local and service bands including Benny Jones Orchestra, U.S. Coast Guard Band, Carl Bobby Orchestra, Charlie James Orchestra, Ambassadors of Swing, Gulf Coast Big Band, Dixielanders and The Music Makers Show Band. Moonlight Serenade by Glenn Miller was his favorite arrangement.
His wife of 66 years, the former Faith Mary Diroll, passed away Jan. 10 of this year.
 He was loving father to Joseph L. O'Toole Jr. (Mary Frye) of Brookfield, Cathy Songer (John) of Sharon, Susan Kleinman (Edward) of Philadelphia, Mary Irish (Dave) of Marysville, Faith Kellogg (Scott) of Mayfield Heights, and Kevin O'Toole (Marilyn) of South Euclid. He was the proud grandfather to Patrick, John David, Jeffrey, Justin, Craig, Keith, Steven, Lea, Shawn, Erin, Meghan, Laura, Ryan, Emily, Colin and Shannon. He is the proud great-grandfather to Taylor, Braydon, Layla, Rose, Sam, Olivia, Hailey, Liam, and Cassidy. He was a proud uncle and caring friend to many.
In addition to his wife, he was preceded in death by his parents; and a brother, Edward D. O'Toole
Calling hours will be from 6 to 9 p.m. on Tuesday, Oct. 29, 2013, and from 9 to 9:30 a.m. on Wednesday, Oct. 30, 2013, at the J. Bradley McGonigle Funeral Home and Crematory Inc., 1090 E. State St. in Sharon.
Services will be at 10 a.m. on Wednesday, Oct. 30, 2013, at the Church of the Sacred Heart, with the Rev. Henry C. Andrae, pastor, as celebrant. A brief prayer service will be held at the funeral home at 9:30  a.m., prior to leaving for the church.
Interment will be at St. Mary's Cemetery in Hermitage, with full military honors rendered by the West Middlesex VFW Post 6233 and the Wheatland American Legion Post 432 Honor Guard.
Visit www.McGonigleFuneralHomeandCrematory.com to send condolences to his family.
Guestbook Entries
« Be the first to sign JOSEPH L. O'TOOLE guestbook.
---