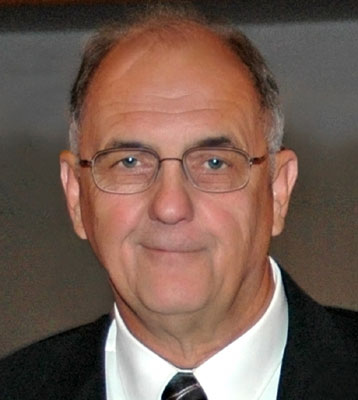 JOHN MICHAEL BENYO STACEY
CANFIELD – John Michael Benyo Stacey, 72, passed away on Thursday, Oct. 17, 2013.
He was born in Youngstown on Jan. 6, 1941, to the late John Benyo and Anna (Kaschak) Stacey. 
John was an Austintown Fitch High School graduate and a member of the Emmanuel Community Church. He served with the U.S. Navy and went on to work for over 45 years as an operating engineer for the Local 66. Even after his retirement, John loved to work and spend time digging with his backhoe. 
Left to mourn John's passing is his loving wife of close to seven years, Maria (Teutsch) (Remner) Stacey; his children, John (Connie Carpenter) Stacey Jr., Christine (Christopher) Pruitt, and Karen (David) Clayton; stepchildren, Stephen (Kelly) Remner, Eric Remner, and Christine (Marshall) Rupert; grandchildren, Jessica Maloney, Christian Pruitt, and Grace and Jack Slaina; step grandchildren, Justin, Lucas and Taylor Remner, Jordan Peshek, and Ashley and Addison Rupert; great-granddaughter, Riley Jo Maloney; and his sister, Alice (Kenneth) Cooley. 
John was preceded in death by his first wife of 45 years, Leora (Lindsay) Stacey; his parents, John Benyo and Anna (Kaschak) Stacey; and his stepfather, Sydney Stacey.
The family will receive friends from 5 to 8 p.m. at the Lane Family Funeral Homes, Austintown Chapel on Monday, Oct. 21, and from 10 to 11 a.m. on Tuesday, Oct. 22, where funeral services will follow on Tuesday at 11 a.m.
Interment will take place at Brunstetter Cemetery. 
In lieu of flowers, contributions may be made in John's memory to The Rescue Mission of Mahoning Valley, 2246 Glenwood Ave., Youngstown, OH 44511.
Family and friends can visit www.lanefuneralhomes.com to send condolences.
Guestbook Entries
"Dear Chris, Karen and John, our love and prayers are with you and your family at this difficult time. Please know that we are thinking of you."
» Nian Cadman Dake on October 21, 2013
Sign the Guestbook
---