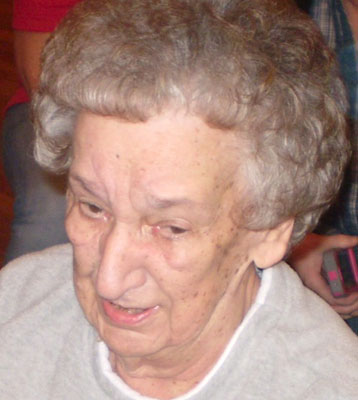 FRANCES TABAKA
NEW MIDDLETOWN - A Mass of Christian Burial will be held Tuesday at 11 a.m. at St. Paul the Apostle Church for Frances Tabaka, 90, who died Thursday morning at St. Elizabeth Boardman Health Center.
Frances was born March 1, 1923, in Brownsville, Pa., to Joseph and Antoinette (Wilk) Grusykowski.
Frances was a homemaker and dedicated her life to her family. She was a long-time member of St. Paul the Apostle Church and the Altar Guild. She was a member of the Bessemer Croatian Club and volunteered her time making pierogi at church. Frances also enjoyed golfing and bowling.
Her husband, Stephen J. Tabaka Sr., who she married Oct. 16, 1948, died March 13, 2008.
She is survived by two daughters, Kathy (Tom) Voytko of New Middletown and Patty (Bill) Dey of New Waterford; four sons, Bob (Libby) of Poland, Steve Jr. of New Middletown, Ed (Francine) of New Middletown and Rich (Stephanie) of New Middletown; three sisters, Ann Bernot of Grinestone, Pa., Veronica Williams of New Castle and Vicky Jeanette of Export, Pa.; 10 grandchildren, Bob, Ron, Rachel, Josh, Brooke, Andrew, Ross, Brent, Jaclyn, and Jillian; and three great-grandchildren, Hannah, Jessica and Rita.
Frances was also preceded in death by three sisters, Nellie Grusykowski, Mary Nagy and Josephine Augustine; and two brothers, Joe and Jack Grusykowski.
Family and friends may call on Monday from 4 to 7 p.m. at the Higgins-Reardon Funeral Homes, Poland Chapel, and Tuesday morning from 10 to 11 a.m. at the church.
Please visit www.higgins-reardon.com to view this obituary and send condolences.
Guestbook Entries
slhs
"sorry to hear about your lost, but she's safe in heaven with other friends and relatives. may god bless you all. cjd"
» carol costello damore on October 20, 2013
"Chuck and I are sorry to hear your mother passed away. She was a very special lady. Our prayers are with you and your family."
» chuck and jody hostetter on October 20, 2013
"Chuck and I are sorry to hear your mother passed away. She was a very special lady. Our prayers are with you and your family."
» chuck and jody hostetter on October 20, 2013
friend of family
"I am very sorry to hear about your loss. Since I live out of town I will not be able to make calling hrs, but sending thoughts and prayers."
» Jennifer Templeton on October 22, 2013
friend of family
"I am very sorry to hear about your loss. Since I live out of town I will not be able to make calling hrs, but sending thoughts and prayers."
» Jennifer Templeton on October 22, 2013
Sign the Guestbook
---