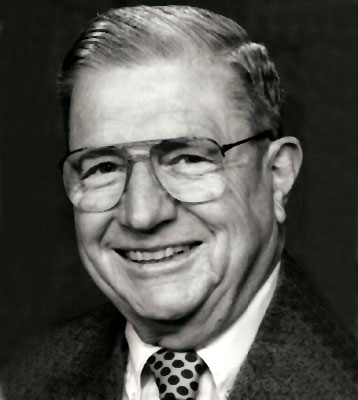 CHARLES BEECHER CROUSE JR
CORTLAND – Charles Beecher Crouse Jr. passed away Friday, Oct. 18, at his home, surrounded by family.
He was born Feb. 9, 1922, in Grosse Pointe, Mich., a son of the Charles B. and Ruth W. Crouse.
He was a graduate of St. George's High School in Newport, R.I., and the University of Arizona, earning a B.S. in Business.
An exemplary member of the greatest generation, Charlie served his country as a Sergeant during World War II in the 11th armored division under General Patton as a tank commander. He participated in the European Theater at the Battle of the Bulge.
Charlie married Margaret "Sue" Hoppe in August of 1948 and came to Warren with her in the early 1950s to begin a career in insurance sales. He struck out on his own and started the Crouse Insurance Agency in 1955. In 1960, he merged with Paige and Byrnes Insurance becoming a partner. Known as "The Man with the Plan" until his retirement in 1986, he was devoted to his family of nine children and his adopted home of Warren all his life.
Charlie gave tirelessly to Warren through early membership in the Jaycees, Warren Community Forum, and was a founding member of the Red Cross Bloodmobile program. His volunteerism led him to become Red Cross Chapter Chairman, President of Sts. Peter and Paul Home and School Association, Chairman of the United Way Professional Division, and President of the Buckeye Club. Throughout his professional life and well into retirement, Charlie was a volunteer and successful fundraiser for St. Joseph's Hospital Foundation, The Red Cross, and The Boy Scouts.
There could not have been better role model and mentor for his children. He will be missed by Kelley (Jim) Spear of Hudson, Gail (David) Hawkins of Colorado Springs, Colo., Anita L. (Mark) Stocz of Cortland, Alfred P. (Brenda) Crouse of Cortland, Daniel H. (Darlene) Crouse of Warren, Ralph W. Crouse of El Paso, Texas, Henry H. Crouse of Willoughby; daughter-in-law, Kathy Crouse of Cortland; brother, Woodruff B. Crouse of Grosse Pointe; 10 grandchildren; and two great-granddaughters.
He was preceded in death by his wife, Sue; sons Charles B. Crouse III, and Robert Russell Crouse; and sister Ann Eaton.
Family will receive friends at the McFarland & Son Funeral Home from 5 to 7 p.m. today, Oct. 20, 2013.
A Mass of Christian Burial will be celebrated at 11 a.m. on Monday, Oct. 21, 2013, at the Blessed Sacrament Church, Warren, with Fr. Thomas Eisweirth and Monsignor Robert Siffrin concelebrating.
Burial will follow at All Souls Cemetery in Cortland.
The family requests that any contributions, in lieu of flowers, be made to the Trumbull Chapter of the American Red Cross, 661 Mahoning Ave. NW Warren, OH 44483, St. Joseph Hospital Foundation, 667 Eastland Ave. SE, Warren, OH 44484, or the Boy Scouts Greater Western Reserve Council, 4930 Enterprise Blvd. NW, Warren, OH 44481.
Arrangements are entrusted to the McFarland & Son Funeral and Cremation Services Co., 271 N. Park Ave., Warren, OH 44481.
Please visit www.McFarlandCares.com to view this obituary, send condolences, and order flowers.
Guestbook Entries
"Your memories will always be in our hearts. We love you forever, Al, Brenda, Abbey and Ray"
» Al, Brenda, Abbey and Ray on October 24, 2013
Sign the Guestbook
---