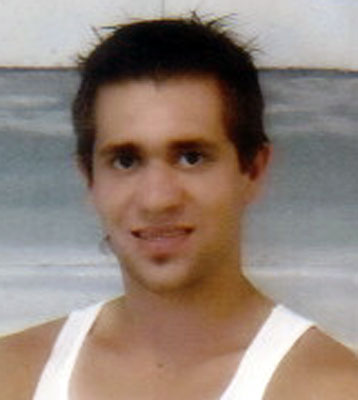 RYAN DAVID RICCIUTI
BOARDMAN – There will be a memorial service held on Friday, Oct. 18, 2013, at 6 p.m. at the Boardman Baptist Church, 1207 Shields Road, Boardman, with Pastor Dennis Massie officiating for Ryan David Ricciuti, 26, who passed away Oct. 6, 2013, in Dania Beach, Fla. due to an unfortunate accident.
Ryan was born March 31, 1987, in Youngstown, the son of David and Charisse (DeMar) Ricciuti.
He was an accomplished Chef who enjoyed music, the outdoors, the beach and spending time with his most precious possession, his 11 month old son, Leonardo Giovanni Ricciuti.
Ryan graduated from Boardman High School in 2006, where he belonged to the Boardman Band and Boardman TV Station. He enjoyed studying architectural drawing, math, science, computers and was fluent in Latin. He played many sports to include soccer, wrestling, poll-vaulting and basketball. His love for music included membership in the Praise Band at the Old North Church in Canfield, where he played multiple instruments and sang. He was an accomplished pianoist, saxophonist, and played a variety of electrical guitars.
At the Old North Church, he was a member of their Youth Group since seventh grade. He mentored the younger children and enjoyed participating in many youth summer camp programs, where he was a junior youth camp assistant and lifeguard. He loved performing mission work and traveled participating in mission work. His last trip included building 40 houses for the underprivileged in Mexico.
Ryan will be missed by all who loved him especially his mother, Charisse Ricciuti of Boardman; a son, Leonardo Giovanni Ricciuti; along with many aunts, uncles, cousins, and devoted friends and family.
He was preceded in death by his father, David James Ricciuti; maternal grandmother, Lillian De Mar; and paternal grandmother Elizabeth Ricciuti.
Friends may call on Friday, Oct. 18, 2013, from 5 to 6 p.m. at the Boardman Baptist Church, 1207 Shields Road, Boardman.
Arrangements have been entrusted to the professional care of the Rossi & Santucci Funeral Home, 4700 Market St., Boardman.
Burial will take place at Lake Park Cemetery, Youngstown.
Family and friends may visit www.rossisantuccifh.com to view this obituary, sign the guest book or send condolences to the Ricciuti family.
"Ryan, fly like an eagle and soar beneath the wings of the Lord. Rest in Peace my son."
Guestbook Entries
"I'm going to miss you so much Ryan, you were truly like a brother to me. rest in peace Ryan. You will be missed by many. "
» Hollie Gjoen on October 17, 2013
"Ryan, may you be with your father and watching over your son. God bless and Rest in Peace."
» Mark Russell on October 17, 2013
"So very very sorry or your lose. May God bring you comfort in the days and years ahead. You are in my thoughts and prayers "
» Hope Wheeler on October 18, 2013
Mother
"To my sweet Jade the Mother of our precious Leo and the Love of Ryan's Life, I wanted to offer my deepest sympathy for you and let you know that you are in my prayers and thoughts. My apologies for not honoring you in the write up as I am so overwhelmed with grief and sorrow...please forgive me. I also wanted you to know that I will now pray the same daily prayer I prayed for Ryan;now for you and Leo: "Dear Jesus please watch over Jade and Leo, invade their hearts and souls, wrap your loving arms around them and make them whole." Remember always the living, loving and laughter that you shared... you were his sunshine and now he is Leo's guardian Angel. Charisse "
» Charisse Ricciuti on October 19, 2013
"Ryan, your brother and I will take care of Jade and Leo. We hope you have found peace. "
» Jennifer on October 24, 2013
Sign the Guestbook
---