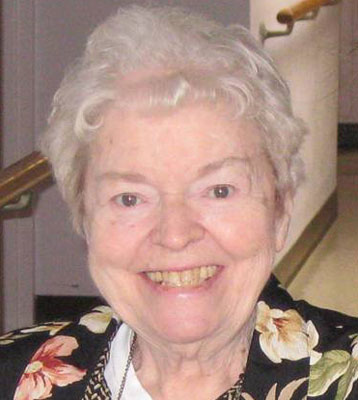 SISTER MARCIA WELSH OSU
CANFIELD – Sister Marcia Welsh, OSU of the Ursuline Sisters of Youngstown died on Wednesday, Oct. 9, at the Ursuline Motherhouse. She was 88.
She was born on July 29, 1925, in Youngstown, the daughter of Joseph and Irene Hogan Welsh.
She attended St. Columba School and graduated from The Rayen School in 1942.
Prior to entering the Ursuline Sisters, Sister Marcia earned a Bachelor of Arts Degree from Youngstown College in 1946, and a Master of Letters Degree from the University of Pittsburgh in 1951, in both programs majoring in Mathematics.
From 1946 to 1956 she taught at the William Rayen School of Engineering. For her years of service there, in the 1980s she was inducted into The Rayen School of Hall of Fame. While at Youngstown College she was a member of Alpha Theta Delta Sorority and active in the Newman Club.
She entered the Ursuline Sisters on September 9, 1956 and professed perpetual vows on August 12, 1962.
After entering the Ursuline Sisters, Sister Marcia did post-graduate work at Marquette University, earned a Master of Pastoral Studies at Loyola University of Chicago and participated in Clinical Pastoral Education at St. Elizabeth Hospital in Washington, D.C.
In her 44 years of active ministry, Sister Marcia taught Math at Ursuline High School for 20 years as well as at Walsh University and Youngstown State University for a year. She also served as In-Service Director at Windsor Nursing Home and Pastoral Minister at St. Aloysius Parish in East Liverpool. During the 1990s Sister Marcia lived and worked in Washington D.C. for S.O.M.E. (So Others Might Eat), first as Volunteer Coordinator and then as Senior Center Coordinator. When she returned to Youngstown in 1998, she began a decade of ministry in Social Justice, especially working as a Chaplain for jails and prisons in Northeast Ohio.
Since her retirement in 2008, Sister Marcia has remained active in service at the Motherhouse, most recently praying for the needs of the church and the world.
Sister Marcia leaves her Sisters in the Ursuline Community; two sisters-in-law, Joan Welsh and Elaine Welsh; and 13 nieces and nephews.
She was preceded in death by her parents; a sister, Patricia Welsh Rogers; and two brothers, Joseph and Jerry.
Funeral services will be held at the Ursuline Motherhouse, 4250 Shields Road, Canfield, where calling hours begin on Monday, Oct. 14, at 3:45 p.m. followed by a Mass of Christian Burial at 5 p.m.
Internment will be at Calvary Cemetery.
In lieu of flowers, memorial donations can be made to the Ursuline Sisters of Youngstown.
Arrangements by the McCauley Funeral Home.
Please visit www.mccauleyfuneral.com to send your thoughts and condolences to the family.
Guestbook Entries
« Be the first to sign SISTER MARCIA WELSH OSU guestbook.
---