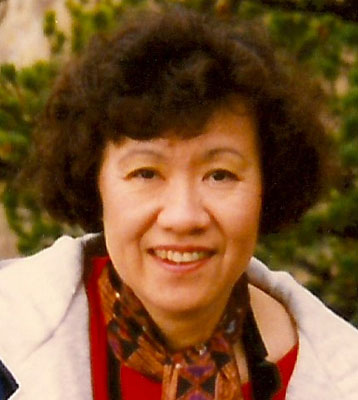 BERNARDA WONG HO
CHICAGO – Bernarda Wong Ho, a resident of Canfield from 1972 to 2010, passed away peacefully surrounded by her family on Oct. 5, 2013, in Chicago, after courageously battling a chronic neuromuscular disorder for 17 years.
Bernarda "Bernie" was born Aug. 24, 1944, in Hong Kong and later immigrated to the United States in 1966, and became a U.S. citizen in 1971.
 She studied at St. Louis University and received a B.S. in Geology.
 She met Paul Ho while a student at St. Louis and married in June of 1970. They later moved to Canfield after Paul finished his medical degree.
Bernie enjoyed sewing, photography, writing, and traveling. She devoted herself to taking care of her family while managing her husband's private practice for many years. Her astute intellect and keen sense of insight were never compromised despite her physical limitations. She and her husband moved to Chicago in 2009 to be closer to family. She remained cheerful, strong willed, and endured her illness with grace until the end.
She is survived by her husband of 43 years, Paul Ho; her close sister, Agnes Wong Lee (Wing Lee) of St. Louis; her daughters, Colleen Ho (Barrett Langlinais) of Brooklyn, N.Y. and Karen Ho (Michael Lee) of Chicago; her son, Jeffrey Ho (Jennifer Whalen) of Williamsburg, Va.; and grandchildren Gavin, Owen, and Micah Lee, Laurel and Alexandra Ho, and Kai Langlinais.
She is also survived by numerous sisters, nieces, nephews and cousins.
A memorial service will be held at a future date.
Guestbook Entries
« Be the first to sign BERNARDA WONG HO guestbook.
---