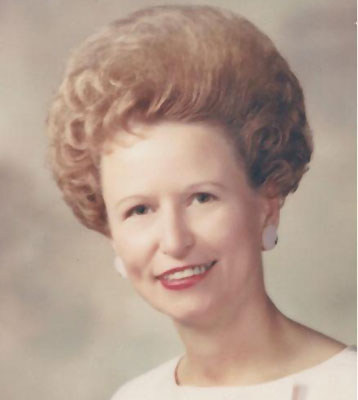 ANNA LOUISE ROWBOTHAM
LAKELAND, FLA. – Anna Louise Rowbotham, 100 years old, passed away on Oct. 7, 2013, in Lakeland, Fla.
She was born on Aug. 18, 1913, in Wampum, Pa., near Pittsburgh, and was raised by her foster parents, Mr. and Mrs. Earl Matteson of Youngstown.
Mrs. Rowbotham graduated from South High School in 1931. She married Arthur Lewis Rowbotham of Youngstown in 1934 and lived in Youngstown until 1954 when she and her family moved to Poland. She earned a Bachelor of Science in Business Administration at Youngstown State University in 1981.
During her years in Ohio, she worked as an accountant with several employers including 10 years at Powers & Flaugher, and 30 years at H. L. Libby Corporation until her retirement in 1999.
She was a member of a number of social clubs, made many friends and devoted many hours to the Shrine and Eastern Star. She relocated to Lakeland in August of 2007 to be closer to her son and his family.
Anna Louise was the Worthy Matron Trias Chapter Order of Eastern Star now Miriam Chapter No. 278 O.E.S. She was the first Worthy High Priestess of Ruth Shrine No. 64 Order of White Shrine of Jerusalem in Poland. She was an active member of the Poland Presbyterian Church. She dedicated her life to her family, friends and the work of the Shrine. This past August, she celebrated with her family and friends her 100th birthday. She will be forever missed.
She was preceded in death by her husband, Arthur Lewis Rowbotham, who passed away in 1985; her daughter, Diane Louise Rowbotham, who passed away in 1946; and her brother, Kenneth Matteson.
She is survived by her son, Arthur James Rowbotham and daughter-in-law, Bonnie H. Rowbotham of Lakeland; three grandchildren, Erin R. Casey (husband, Brian) of Fort Myers, Fla., Benjamin H. Rowbotham (wife, Maria) of New York City, and Arthur A. Rowbotham (wife, Sarah) of Lakeland; three great-grandsons, Jackson W. Casey and Colin P. Casey of Fort Myers, and Easton R. Rowbotham of New York City; a great-granddaughter, Evangeline R. Rowbotham of Lakeland; a brother-in-law, Bert Rowbotham of Zephyrhills, Fla.; two sisters-in-law, Doris Rowbotham of Marblehead and Jesse Matteson of Boardman; and a nephew, Kenneth Wade Matteson of Boardman.
Calling hours will be held at the Cunningham-Becker Funeral Home, Poland Chapel, 270 North Main St., on Friday, Oct. 18, from 5 to 7 p.m.
On Saturday, Oct. 19, at 10:30 a.m., there will be a funeral service at the funeral home followed by a reception at the Poland Masonic Temple, 7685 Youngstown-Pittsburgh Road, Poland, given by the Ruth Shrine.
In lieu of flowers, donations may be made to Father Flanagan's Boys Town, at www.boystown.org.
Please visit www.beckerobits.com to send condolences.
Guestbook Entries
"I so loved Ann... She was a close friend of my aunt Rita and my mother Louisa Anderson-Magnuson. I will always hold her dear to my heart. There are so many memories of many New Year Celebrations with the family of Clarence and Louisa where Ann would drive home in her very "Big" car, her head hardly visable above the wheel! She was such an angel and I know in my heart that she is residing in heaven with her maker... Probably no doubt reunited with her husband, the adorable Arthur "Art". Sincerely, Rita Lee "
» Rita Magnuson-Royerre on October 21, 2013
Sign the Guestbook
---