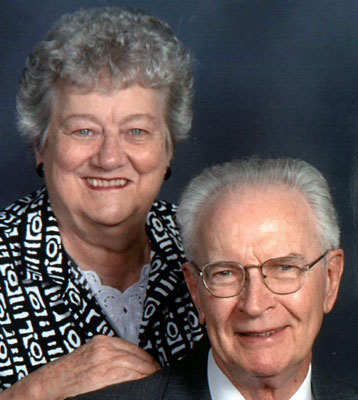 WILLARD A. FITZGERALD
"Together Again"
YOUNGSTOWN – Willard A. Fitzgerald, 89, passed away Thursday, Oct. 3, 2013.
He was born in Pittsburgh on Aug. 30, 1924, to the late Roy and Emma (Ziegler) Fitzgerald.
Willard was a graduate of Wilkinsburg High School and went on to serve his country in the U.S. Army Air Force. He worked as a salesman for Wilson Sporting Goods for 41 years, and retired to Ocala, Fla.
Willard was an active member in Kiwanis in Pittsburgh and Ocala, and also was a part of the Pittsburgh Club during his time in Florida. He also was a Boy Scout troop leader in Pittsburgh. Willard will be remembered at Park Vista, Youngstown, for his active involvement in everything from the exercise club to just volunteering and visiting with the other residents.
Left to mourn Willard's passing is his son, Gary (Diane) Fitzgerald of Hendersonville, N.C.; his daughter, Georgia (David) Geitgey of Austintown; his grandchildren, Erin Fitzgerald, Christina (Brandon) Kappler, Danny (Jamie) Fitzgerald, Heather (Jonathan) Root, Caitlin Fitzgerald, and Marianne Geitgey; and his great-grandchildren, Owen Root, Joey Splawn, Evie Ashman, Elijah Root, and Levi Root.
Willard was preceded in death by his loving wife of 62 years,  Martha D. (Heiser) Fitzgerald; parents, Roy and Emma Fitzgerald; his great- grandchildren, Nolan, Brantley, and Amelia Kappler; and his sister, Louise Means.
Family will receive friends on Monday, Oct. 7, from 3 to 4 p.m. at the Lane Family Funeral Homes, Austintown Chapel, where a funeral service will follow at 4 p.m.
Entombment in Allegheny Cemetery in Pittsburgh will take place on a later date.
Family and friends can visit www.lanefuneralhomes.com to send condolences.
Guestbook Entries
"My deepest sympathy to you and your family. It was my pleasure to be your dads banker."
» Jean DelSignore on October 6, 2013
Sign the Guestbook
---