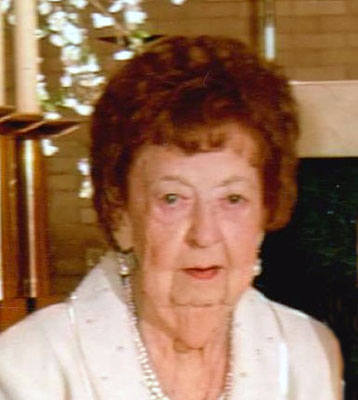 MARY K. MCNALLY
BOARDMAN – A prayer service will be held Tuesday at 9:15 a.m. at the Higgins-Reardon Funeral Home Boardman-Canfield Chapel, followed by a Mass of Christian Burial at 10 a.m. at St. Columba Cathedral for Mrs. Mary K. McNally, 93, who died early Saturday morning at the Hospice House.
Mary was born April 6, 1920, in Warren, a daughter of Charles and Mary Scally Shea.
She was a graduate of South High School and was a member of the church. She had worked as a secretary for the United Steel Workers, the Diocese of Youngstown Department of Education and St. Dominic's School. Mary spent her life as a church organist and choir director enhancing the liturgy with her beautiful music for so many at St. Dominic Church.
Along with spending time with her family, one of Mary's greatest joys was traveling. She was ready to go at the drop of a hat, especially loving her trip to Ireland with her husband, Jack and their numerous trips to Notre Dame football games.
Mary loved sports, especially football and basketball. Her Friday nights were spent listening to Cardinal Mooney football games and her Saturdays watching every football game she could, especially the fighting Irish of Notre Dame. On her 90th birthday, she got to spend it with the Cleveland Cavaliers as a guest in the team loge for the game. While living on the lake, Mary enjoyed watching all the wildlife in the yard, especially the Cardinals.
Mary was married to her husband, John, Jan. 22, 1942, and he died Jan. 4, 2007.
She leaves to cherish her memory, two daughters, Sharyn (Bill) Chrystal of Beaver Township and Colleen (David) Harris of Canfield; one son, Mickey ( Eileen) McNally of Canfield; eight grandchildren, Dr. Shannon McNally-Velasquez and her husband, Tom Velasquez, Dr. Mimi McNally and her husband, Jeff Ryznar, Mac (Jordann Rossi) Chrystal, Cailyn and Conor Chrystal, Attorney Jennifer ( Attorney Stephen) Franks, Kathryn (Michael) Husak and Colin Harris; and seven great-grandchildren, Alexis, Mickey, Liam, Sullivan, Annaliese, Parker and Maeryn.
Mary was preceded in death by her parents; husband John; son Barry; sister Eileen Sullivan; and two brothers, Charles and Gene Shea.
The family would especially like to thank all the caregivers who took such good care of Mary at Shepherd of the Valley Boardman and at Hospice House.
Friends may call Monday from 4 to 8 p.m. at the funeral home.
Memorial contributions may be made in Mary's memory to Hospice House.
Visit www.higgins-reardon.com to view this obituary and to send condolences.
Guestbook Entries
"A great lady and always fun to be with. Prayers from Jule and Wally Dunne"
» Jule Dunne on October 6, 2013
"My sympathy on the lose of your mom. She was a beautiful woman. I have many fawn memories of her. Church wasn't church if she wasn't there. Enjoy your new journey you certainly earned it. R.I.P. "
» Dori Anne Altiero on October 6, 2013
"My thoughts and prayers go out to Mickey and his entire family on the loss of his mom."
» Phyllis Elmo on October 6, 2013
RC Priest
"Rest in Peace, Mary. Thank you for all the beautiful music! Fr. Muller,OP"
» James B. Muller, OP on October 6, 2013
"sharon and colleen my prayers are with you and your family during this difficult transition in your lives. a mother's love and protection does not end on this physical earth but a mother's love and protection for her children lives on forever in her eternal life."
» terry esarco on October 6, 2013
"Our sincere sympathy on the loss of your Mother. Our thoughts and prayers are with you."
» Shirley & Vince Carney on October 16, 2013
Sign the Guestbook
---