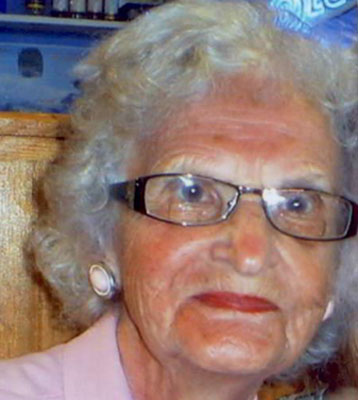 HELEN LIBERATORE
CANFIELD – Helen Liberatore, 92, formerly of Carter Circle in Boardman, passed away Thursday, Oct. 3, peacefully at her daughter's home in Canfield.
She was born in Steubenville, on Nov. 26, 1920, to John and Josephine Zienko Wasuleski
Mrs. Liberatore was married to Albert E. Liberatore, her childhood sweetheart, on Oct. 25, 1941, and who passed away on Dec. 8, 2010.
She graduated from Big Red High School in Steubenville, where she was a proud member of the band.
Mrs. Liberatore's career began as a telephone operator for Ohio Bell and continued at Medical Dental Bureau, Strasbaugh Dodge and Hathaway Bakery.
Mrs. Liberatore's love and devotion to her family was unparalleled. Her purist delight was cooking and baking her families favorite dishes, especially her famous pepperoni rolls. Baby-sitting her grandchildren and great-grandchildren gave her great joy. She was also an avid Cleveland Indians fan her whole life.
She leaves to cherish her memory, her daughter, Carol (Bob) Barrett, with whom she made her home; sons, Gary (Paulette) Liberatore of Boardman and Perry (Patty) Liberatore of Youngstown; sister, Clara Szydlowski of San Antonio, Fla.; seven grandchildren; and six great-grandchildren
Besides her parents and husband, she was preceded in death by a sister, Martha Wasuleski.
The family wishes to express their heartfelt thanks to Dr. Malkovits and staff, Dr. Brad Picha, Shepherd of the Valley, Hospice of the Valley and Community Health Care.
The family has requested that contributions may be made to Difference Makers, 225 North Main St., Hubbard, OH 44425.
A Mass of Christian Burial will be celebrated by the Reverend Father Timothy O'Neill, will be at noon on Monday at St. Patrick Church in Hubbard, where the family will receive relatives and friends from 10 to 11:45 a.m. at the church.
Arrangements by the McCauley Funeral Home, serving the Valley for more than 111 years!
Please visit www.mccauleyfuneral.com to send thoughts and condolences to the family.
Guestbook Entries
HUBBARD, OHIO
"OUR THOUGHTS AND PRAYERS ARE WITH YOU DURING THIS VERY SAD AND REFLECTIVE TIME."
» VINCE&MELANIE MAGUIRE on October 6, 2013
"Your family is in our thoughts and prayers. She will be missed!"
» Rob and Leslie Stradley on October 6, 2013
"I am honored to have known Helen and have her daughter in my life and as my mother's close friend. Helen will be missed but always remembered."
» shari lynn patterson on October 6, 2013
"I am so sorry for your loss. Your mom was a great and loving. How lucky we are to have had the pleasure of being her friends. I guess my dad and your dad are playing salutations for her. I am sorry we missed the viewing. My mom is very sad. We love you - Diane & Mary"
» Diane Ranalli Carbon on October 10, 2013
Sign the Guestbook
---