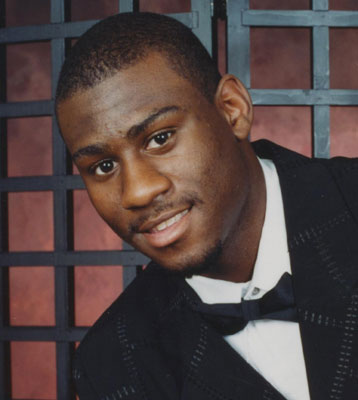 IVAN MYLES DEMOREST WEST
YOUNGSTOWN – Services will be Saturday, Oct. 5, 2013, at noon at the Grace Evangelistic Church for Mr. Ivan Myles DeMorest West, 28, who departed this life Sunday, Sept. 29, 2013.
Mr. West, affectionately known as "The Bishop" among family and friends, was born July 25, 1985, in Youngstown, a son of Harry N. and Georgia P. Jenkins West.
He was a 2004 graduate of Liberty High School and a graduate of Trumbull Career and Technical Center.
He was presently employed with the Asphalt and Paving Company. Ivan was a member of the Grace Evangelistic Temple, where he was an avid church worker, and had a passion for volunteer work at various churches. He also loved spending time with his son, family and friends.
He leaves to forever hold dear his memories, his mother of Youngstown; father of Tacoma, Wash.; his son, Isaiah Jeffery O'Neal of Kent; two sisters, Wendy West Younger of Fairburn, Ga. and Jessica (Keith) Coleman of Atlanta; a brother, Sheldon S. Grayson, Jr., grandparents, Roy and Teresa Jenkins, and adopted father, Sheldon S. Grayson Sr., all of Youngstown; his longtime friend, Ciera Jones of Boardman; and a host of aunts, uncles, other loving family and dear friends.
He was preceded in death by his grandparents, Samuel and Helen Currie; uncle and aunt, Peter and Sally Singleton; and aunt, Gwendolyn Bunkley.
Friends may call Saturday from 10 a.m. to noon at the church.
Arrangements entrusted to the L.E. Black, Phillips & Holden Funeral Home.
Guestbook Entries
CBBC CHURCH
"IVAN WAS GENTLEMEN WHO WAS ALWAYS TRYING TO FIND OUT EXACTLY WERE HE FIT IN. THE WORLD WAS NOT HIS CALLING , IN TIME HE FOUND HIS CALLING WAS SERVING THE LORD. MY DEEPEST SYMPATHY TO THE FAMILY OF THIS CHILD OF GOD HE WILL ALWAYS BE REMEMBERED AND WILL NEVER BE FORGOTTEN I ALSO WILL REMEMBER HIM FOR BEING FRIENDLY OPEN AND HONEST. THANKS FOR SHARING HIM WITH US THE PUBLIC AT LARGE ."
» DEACON JOSEPH NAPIER SR on October 2, 2013
"GEORGIA, MY LOVE & PRAYERS GO OUT TO YOU AND YOUR FAMILY ON THE LOSS OF YOUR SON. AND THAT GOD WHO LOVES YOU DEARLY WILL SPEAK BLESSING & COMFORT TO YOUR HEART IN THE DAYS AHEAD"
» GALE DOUGLAS on October 3, 2013
""GEORGIA,I CAME TO UNDERSTAND WHY HE WAS CALLED "THE BISHOP" AT SUCH AN EARLY AGE THROUGH THE TALKS WE SHARED. GOOD NIGHT, SWEET PRINCE!""
» Adopted Grandma White on October 3, 2013
"Just allow the LOVE of GOD,family & friends comfort you & the family & the beautiful memories of Ivan give. you peace & joy everlasting. I love you & am praying for you."
» kathy jennings on October 3, 2013
"Just allow the LOVE of GOD,family & friends comfort you & the family & the beautiful memories of Ivan give. you peace & joy everlasting. I love you & am praying for you."
» kathy jennings on October 3, 2013
"Georgia No words can explain the heart felt sympathy. My Prayers are with you. God will see you through. His hands rest upon shoulders and he will walk with you and your family throughout the days to come. Blessed Assured. "
» Vernon Robinson on October 3, 2013
love and prayers
"Ivan was a good man and the Jones family loved him and still do I thoughts and prayers go out to the west and Jenkins family in this tough time. "
» chris on October 3, 2013
"To the West Family "I cannot say I know how you feel, because I have never been there before. But I do know one who is touched by your feelings, and that is Jesus. I pray that you and your family are overtaken by the peace and comfort of God. You are forever in my prayers. "
» Brenda Byers on October 4, 2013
"My hearfelt prayers goes out to Georgia and the entire Jenkins family, May God Keep You and Strenghten you in this time of Sorrow, but we know that Our love Ivan is now at Rest with the Father! May God continue Bless and Comfort You. I Love you very much. Cherelle & the Jackson Family"
» Cherelle P Jackson on October 4, 2013
"GEORGIA,YOU HAVE OUR LOVE AND PRAYERS.THERE ARE NO WORDS TO SAY "BUT GOD""
» DORIS J. HAMILTON & FAMILY on October 4, 2013
"Sis. Geogia, Jessica, and the entire family; I used to baby sit Ivan and Jessica when they were little and loved them both. I love you all sooo much. May God continue to bless and keep you. You are in my prayers. Love LaToya Littles (Bea) and Gary Jr. "
» LaToya Littles on October 5, 2013
\Victims' Advocate
"I'm so sorry for your lost, I have known you all for many years and I pray God with keep you in perfect peace. Love Brenda"
» QueenB on October 6, 2013
Victims' Advocate
"God is in control, He don't make no mistakes. I have known you all for many, many years and I'm so sorry for your lost, You are in my prayers. Love Brenda Gray"
» QueenB on October 6, 2013
"So terribly sorry to hear about Ivan. He was in my class at TCTC and was such a cooperative young man that all students considered a friend, and all teachers including myself were glad to have met. My deepest sympathies and prayers are with you at this time. "
» Mrs. Michelle Plakosh on October 6, 2013
frend and aunty
"Ivan was like my son always there to help me and care for me when I was sick he stayed by my side when he could I will always miss Ivan."
» karen whatley on February 16, 2015
Friend
"I am just finding out that my best friend is gone it hurts so bad I never knew my friend would die so young I miss you dude praying for the family "
» Brandon Blair on April 30, 2015
Sign the Guestbook
---