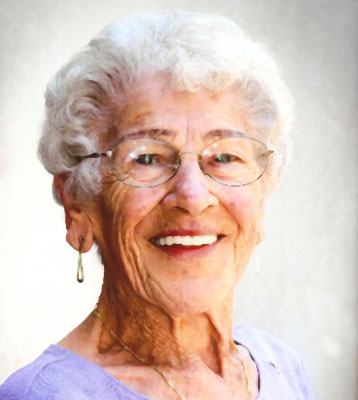 OLGA LOUISE MARY SCARNECCHIA GRIFFIN CORTESI
OXNARD, CALIF. – Olga Louise Mary Scarnecchia Griffin Cortesi was born on Oct. 31, 1922, and on Nov. 16, 2013, after a brief illness, she was taken on the wings of angels to meet the Lord she so dearly loved and worshiped her entire life.
Olga was born on Oct. 31, 1922, in Youngstown, to Italian immigrant parents, Emilio Pietro and Maria Carmela Scarnecchia. Her father, Emilio, was a hardworking man in the steel industry who found creative means such as collecting and selling scrap metal to support his wife and five children during the Great Depression. Olga told stories of being the first family on the block to have a washing machine and later a T.V. Her mother, Carmela, was a homemaker, busying herself raising five children. One of Olga's fondest memories was dancing the Tarantella with her father at Idora Park on Italian Day. It was from him that she inherited her lifelong love of music and dance.
Olga went to a business college for two years and then worked as a bookkeeper for an import/export company in Youngstown until she met and then married Elmer B. Griffin on Jan. 19, 1952. At that point in time she became a devoted homemaker and traveled with Elmer to many parts of the United States due to his employment as an electrician. From that marriage was born her only child, Patricia Ann Griffin.
The family settled in Oxnard in 1963 and Olga resided there until her death. She was an involved and doting mother to her daughter, Patty. After Olga's daughter was an adult and out of the home, Olga worked for many years for the Ocean View School District as an instructional assistant.
Her husband, Elmer, died rather suddenly on Dec. 14, 1983. Olga continued her work in education.
Olga was fortunate to meet another wonderful man, Ret. Chief Warrant Officer, Henry H. "Harry" Cortesi and on her birthday, Oct. 31, 1987, she married him. Shortly after the marriage, she retired from her employment in education to spend more time with her new husband. He introduced her to golf which she played avidly for the duration of their marriage. With Harry, she enjoyed traveling to many places including Italy and Hawaii. They dined, danced, and attended many military functions. Harry passed away on March 19, 1998.
Before Harry's passing, Olga received a joyous gift when she became a grandmother to Lindsay Baca and then later to Madison Baca. Of all her jobs and of all her roles in life, being a grandmother was by far her favorite and she entered this phase of her life with overwhelming zest and zeal. She was always involved, supportive, doting, caring, and loving with her granddaughters.
After Harry's passing, Olga devoted herself to "her girls," meaning her daughter, Patty, and granddaughters, Lindsay and Madison. She also had a large network of friends, with whom she enjoyed bingo, cards, luncheons, dinners, parties, watching movies, shopping, and other activities. Olga lived completely and totally independently until her brief illness. She was a spirited and spunky individual who reveled in her independence and wouldn't have it any other way.
Olga will be immensely missed by her daughter and granddaughters who will always carry her love and spirit in their hearts.
Olga was preceded in death by her parents, Emilio and Carmela Scarnecchia of Youngstown; by brothers and sisters-in-law, Frank and Nell Scarnecchia of Springfield, Ill., Sam and Frannie Scarnecchia of Struthers, and Arch and Catherine Scarnecchia of Struthers; by husbands, Elmer B. Griffin and Ret. Chief Warrant Officer Henry H. Cortesi; and from husband Elmer's side of the family, by niece, Susan Wilson of Tennessee.
She is survived by her daughter, Patricia A. Griffin and granddaughters Lindsay and Madison Baca, all of Camarillo, Calif. She is also survived by her brother and sister-in-law, Jack and Delores Scarnecchia of Boardman; as well as a special nephew, Tony Scarnecchia of Poland, Ohio.
Other surviving nieces and nephews include Mary Lou Hricik, Marie Weiss, Donna Jean Kemp, Kathy Scarnecchia, Teresa Scarnecchia, Jackie Scarnecchia, Ron Scarnecchia, and Bobbie Scarnecchia. From husband Elmer's side of the family she is survived by Beverly Cartwright, Carol Walther, Peggy Hunka, Tony Wilson, Robert Griffin, and Charles Griffin Jr.
Olga is now with the Lord and all of the angels in Heaven. "Peace be with you, Olga. 'Your girls' miss you."
Viewing and a celebration of Olga's life will be held today, Nov. 21, 2013, from 5 to 8 p.m. at the Griffin Family Funeral Chapel at 1075 E. Daily Drive, Camarillo, CA. The funeral Mass will be held on Saturday morning, Nov. 23, 2013, 10 a.m. at St. Anthony's Church, 2511 South "C" Street, Oxnard, CA with internment to follow immediately at Ivy Lawn Cemetery in Ventura, Calif.
Services under the direction of the Griffin Family Funeral Chapels, 1075 East Daily Drive, Camarillo, CA 93010.
Guestbook Entries
"What a BEAUTIFUL write -up on this wonderful lady! Someone took the time to make this very special! I feel like I know her from reading it! May God Bless her, and give all of this family Peace, Grace and Blessing <3"
» a Reader on November 21, 2013
Friend of family years ago
"I am sorry to hear of Olga's passing. I hope that one day my frienddship with the family will be rekindled. I t hink of you often. Janet "
» Janet Ritchie on September 28, 2014
Sign the Guestbook
---