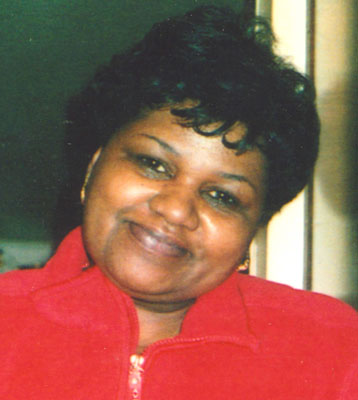 LAVERNE P. SCOTT-HOWARD
YOUNGSTOWN – Services will be at 10 a.m. Saturday, Nov. 23, 2013, at the Fellowship Church of God In Christ, 115 Frank St., Struthers, for Mrs. LaVerne P. Scott-Howard, 64, of Youngstown, who entered eternal life Monday, Nov. 18, 2013, at St. Elizabeth Health Center in Youngstown.
Mrs. Howard was born Oct. 23, 1949, in Campbell, a daughter of Mandy and Alice Ashmore Scott.
She was a 1967 graduate of South High School and had worked at General Motors Lordstown for over 30 years, retiring in 1999. She was a member of the Fellowship Church of God In Christ, an awesome cook and an avid Cleveland Browns fan.
She leaves to forever cherish her memory, her mother, Alice Scott-Ivory; her beloved son, Darnell Howard; her sisters, Sylvia Holmes of Vienna and Jacqueline Murphy of Youngstown; grandchildren, Allyson Howard and Tearisha Scott, both of Youngstown; great-grandson, Derek Glass of Youngstown; and a host of nieces, nephews, other family and friends.
She was preceded in death by her father, Mandy; husband, Joseph Howard, whom she married Nov. 28, 1980, and who passed away Aug. 25, 2004; and her son, Terrence Scott.
Friends may call on Saturday from 9 to 10 a.m. at the church.
Arrangements entrusted to the L.E. Black, Phillips and Holden Funeral Home.
Guestbook Entries
Thank you for your kindness
"You were the sweetest person God Truly has a new Angel R.I.P will miss ya."
» Marquise Mims on November 21, 2013
"Ms. Laraine and family, so sorry for your loss, my prayers are with you!"
» Tiffany Fields-Williams on November 21, 2013
"Words cannot express my heartfelt sympathy to the family for the loss of Auntie Laverne. My our Heavenly Father continue to comfort all in your time of grief. Love you all."
» Maria (Rie) Class on November 21, 2013
friend
"Mother Alice Ivory and family I am sending my love and prayers in your hour of need. Let the Lord carry you through and comfort you will all His Divine Love"
» Verdell Smith Thornton on November 21, 2013
"Revelation 14:13, "Blessed are the dead which die in the Lord from henceforth; Yea saith the Spirit, that they may rest from their labours and their works do follow them." We are praying for you all, that the peace of God which passeth all understanding will keep your hearts and minds, through Christ Jesus. We love you all."
» Brenda Byers and Family on November 21, 2013
" Laverne Phyllis Howard God saw you getting tired A cure was not to be. So he put his arms around you And whispered, ""Come with Me."" With tearful eyes we watched you And saw you fade away. Although we loved you dearly We could not make you stay. A golden heart stopped beating Your tender hands at rest. God took you home to prove to us He only takes the best. Humbly submitted by Sis Cathy Rodriguez 11-21-13 Mom Alice, Darnell, Jackie, Sylvia and family My love and prayers are with you. Let Jesus loving arms comfort you and may His peace that passes all understanding be with you now and forevermore."
» Cathy on November 22, 2013
Sign the Guestbook
---