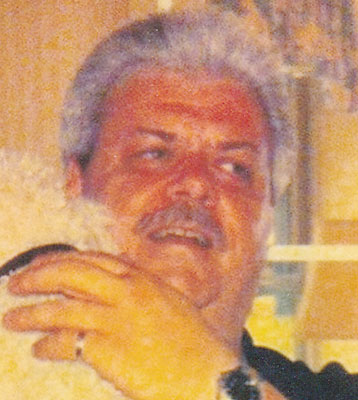 FRANK T. MINENOK JR
AUSTINTOWN – There will be a memorial Mass at noon on Saturday, Nov. 16, 2013, at St. Charles Borromeo Church in Boardman for Frank T. Minenok Jr., 64, who passed away Wednesday morning, Nov. 13, at his home surrounded by his loving family.
Frank was born Sept. 10, 1949, in Youngstown, the son of Frank T. Sr. and Florence (Salvatore) Minenok.
He was a retired Youngstown City Police Officer, most recently worked for Falcon Transport Company and was the owner/operator of Frank's Lawn and Landscaping Company. Frank courageously served his country with the U.S. Navy.
Frank will always be loved and remembered by his parents of Youngstown; his wife, the former Carole Saculla, whom he married Nov. 1, 1985; daughter, Carrie Minenok of Little Hocking; son, Frank T. Minenok III of Austintown; six siblings, Judith (David) Brownstein of Buffalo, N.Y., Joan Yanchick of New Middletown, Jane Minenok of Austintown, Joy Minenok of Canfield, Russell (Deborah) Minenok of Boardman and Patrick (Roberta) Minenok of New Castle, Pa.; mother-in-law, Frances Saculla of Canfield; two brothers-in-law, Bill (Cindy) Saculla of Florida and A.J. (Cheryl) Saculla of Poland; a sister-in-law, Melissa (Donald) Rich of Canfield; 23 loving nieces and nephews; and 11 great-nieces and nephews, who adored him and he loved as if they were his own.
Frank was preceded in death by his father-in-law, Frank Saculla and brother-in-law John Yanchick.
Frank was a lover of music, books, long car rides, and the water. These enjoyments were only magnified when shared with his family, his wife, "Carole Baby," daughter "Bear," son "Cheech," and his dogs, Roxy, Midnight and Blue Max. His special names for those closest to him, just emphasized their endearment to him.
Friends may call on Saturday, Nov. 16, 2013, from 10 a.m. to noon at St. Charles Church prior to the Mass.
The Rossi Brothers and Lellio Funeral Home, 4442 South Ave. in Boardman has been bestowed the honor and privilege of handling the arrangements for Frank.
Family and friends may visit the Book of Memories at www.rossifunerals.com to view this tribute and send condolences to Frank's family.
Guestbook Entries
"My condolences to the family . Enjoyed C C W class with you . May you rest in peace .."
» Rich Tarnaski on November 15, 2013
"Please accept my deepest sympathy on the passing of Frank. I was priveleged to have worked with him at Y.P.D. and shared many happy memories with him. God bless your family at this very sad time."
» Mrs. Susan Colucci Centorame on November 15, 2013
"Praying for the family.Pat our love and thoughts are with you all. Min. DC Colvin"
» DC Colvin on November 15, 2013
"Sorry to hear of your loss. Thoughts and prayers to your family."
» Brigid (Borosko) Costas on November 15, 2013
"Thoughts and prayers to you all."
» Steve & Mary Herchik on November 15, 2013
subject
"my prayers and thoughts are with you at this very sad time"
» caren compton on November 15, 2013
"my prayers and thoughts are with all of his family at this very sad time"
» caren compton on November 15, 2013
"Carrie and Family, May God bless and keep you during your time of sorrow."
» Linda Glover on November 16, 2013
"Carol, and family. My deepest sympathy in the loss of Frank. He was a good friend for many years. Upon moving to Florida we lost touch but he was always in my mind and I will always remember what a great guy he was. May his memories help you get though this tough time. God Bless."
» Jim Pastore on November 16, 2013
"So sorry to hear about Frank. My thoughts and prayers to you and your family."
» Deidrai McClary on November 20, 2013
"You were a great man. You will be sadly missed & never forgotten. My thoughts & prayers are with your family. We had love & a great friendship that lasted many years, I am so sorry that I hurt you when I let you go. May you R,I,P,"
» peggyswanager on April 5, 2014
"You were a great man. You will be sadly missed & never forgotten. My thoughts & prayers are with your family. We had love & a great friendship that lasted many years, I am so sorry that I hurt you when I let you go. May you R,I,P,"
» peggyswanager on April 5, 2014
"You were a great man. You will be sadly missed & never forgotten. My thoughts & prayers are with your family. We had love & a great friendship that lasted many years, I am so sorry that I hurt you when I let you go. May you R,I,P,"
» peggyswanager on April 5, 2014
Sign the Guestbook
---