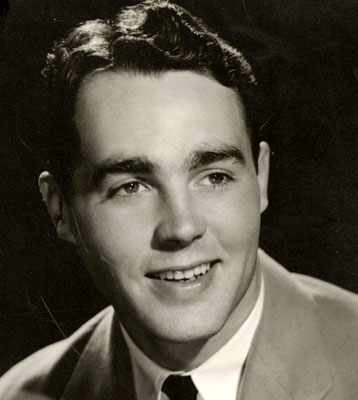 CHARLES 'BILL' WILLIAM BUTLER
SALEM – Charles "Bill" William Butler, 89, died Friday morning, Nov. 8, 2013, at Clare Bridge in Austintown, where he was well-cared for during his four years there.
He was born June 25, 1924, in Niles, the son of the late Charles Raymond Butler and Lusada Owen Butler.
Bill graduated from Niles High School in 1942, and then eagerly enlisted in the U.S. Navy with written permission from his father. He served for four years. He went to naval pilot training and was initially assigned as a dive-bomber, flying the Douglas SBD Dauntless. As a Lieutenant JG, he also trained as a fighter-bomber pilot in Grumman F4F Hellcats and 4FU Corsairs flying off the aircraft carrier, the USS Yorktown in the Pacific during World War II. Bill attended Denison University in Granville, Ohio, after his four-year naval tour and continued in the U.S. Navy Reserves for 14 years before his honorable discharge on June 17, 1959. He worked for Salem Engineering for a brief period before moving to Norwalk, Ohio, to work with the 3M Company.
Bill moved to Salem in the mid-50s after the death of his father-in-law, Sam Keener, and bought out the promising trailer park business. He owned, operated and successfully ran the Suburban Trailer Park and Sales in Niles for nearly 18 years before selling it and retiring in the early 70s. In his retirement, Bill enjoyed flying numerous general aviation aircraft including the American Champion Citabria, Piper Cherokee Archer, T-tail Bonanza, and Piper Cherokee Six, plus way more automobiles than we probably knew about or can list here.
He also loved spending time golfing and fixing his jet boat at his vacation home in Keowee Key, S.C., and visiting with his two children and their families in Georgia and Maryland.
Bill was married in the First Presbyterian Church in Salem and remained a devoted member throughout his lifetime. He was also a lifetime member of the Salem Golf Club.
An infant son, Christopher Keener Butler; and two sisters, Betty Lou (Leroy) Cramer and Blanche (Robert) Butler Lloyd, preceded him in death.
His beloved wife of 64 years, Patricia (Keener) Butler, whom he married June 25, 1949, survives him along with a son, Jeffrey (Carolyn) William Butler of Suwanee, Ga.; a daughter, Amy (Donald) Butler Koranda of Germantown, Md.; six grandchildren, to whom he was devoted including, Christopher (Kathleen) William Koranda of Menlo Park, Calif., Matthew (Jennifer) Butler Koranda of Newport Beach, Calif., Michael Patrick Koranda of Los Angeles, Julia McDaris of Paris, France, Maggie McDaris of London, England, and William Harris Butler of Norfolk, Va.; two great-granddaughters; two nieces; and a nephew.
A memorial service will be held at 11 a.m. on Thursday, Nov. 14, 2013, at the First Presbyterian Church with the Rev. Dr. Meta S. Cramer officiating.
Calling hours will be held at the church on Thursday one hour prior to the services.
Burial at sea will take place at a later date from the USS Yorktown, now permanently docked at Mt. Pleasant, S.C., where he was a member of the Veterans of the USS Yorktown CV10.
In lieu of flowers, memorial contributions may be made to Alzheimer's Organization; Alzheimer's Association, Greater East Ohio Area Chapter, 70 W. Streetsboro St., No. 201, Hudson, OH 44236 or the First Presbyterian Church Music Department, 436 East Second St., Salem, OH 44460.
Arrangements were handled by the Stark Memorial Funeral Home.
Please visit www.starkmemorial.com to view Bill's obituary and send condolences online.
Guestbook Entries
« Be the first to sign CHARLES 'BILL' WILLIAM BUTLER guestbook.
---