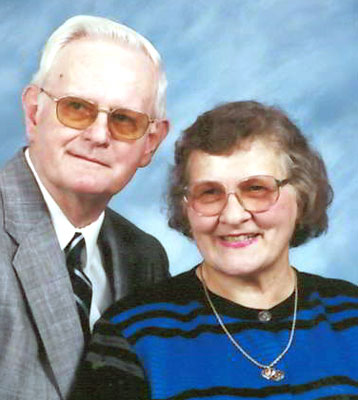 BEVERLY JEAN 'NANA' MARTIN
"Together Again"
AUSTINTOWN – Beverly Jean Martin, 79, died peacefully, after an amazing life, on Monday morning, Memorial Day, May 27, at St. Elizabeth Health Center.
Beverly, affectionately known as "Nana," was born Sept. 17, 1933, in Youngstown, a daughter of William and Mary Lett Ross and lived her entire life in the Youngstown area.
A 1951 graduate of South High School, Nana worked at Automatic Sprinkler as a Comptometer. One day, a tall skinny co-worker, who at 6'2" was an entire foot taller than her, asked her on a date. Charles Alan Martin took her to dinner. This led to their wedding on April 12, 1958, at the First Christian Church in Youngstown.
A member of the Austintown Community Church, Nana was very active in the Dorcas Circle and helped distribute knit winter hats to children. She was a founding and former member of the Christ Church in Boardman. Nana volunteered for STARS (seniors teaching and reaching students) at Taft and Williamson Elementary Schools. Beverly was a member of the Austintown American Legion Post No. 301 Auxiliary, Austintown Homemakers Club, Hubbard Senior Center Thursday Card Club and she also took great pride in serving lunch to the Kiwanis once a month at ACC. Nana was a faithful attendee at Music at Madison and loved to sing along. She also loved the Canfield Fair, serving soda at the Colonial Inn on behalf of her church. Mrs. Martin was also known as the "Newsroom Mom" of WFMJ TV 21.
However, it wasn't until March of 1989, that she received her greatest promotion in life and gladly took the title that came with it. It was then Bev and Chuck Martin became Nana and Papa. It all started with one tiny baby girl and three years later with one huge baby boy, but quickly thereafter included all neighbor kids, church kids, classmates, sport teammates, band mates and co-workers, of their original two grandkids. Their door was open to all the kids. Eventually over the years, even adults came to know them only as Nana and Papa.
In the summer of 2009, Nana did something few have been blessed to accomplish. She set foot in Ketchikan, Alaska and in doing so, visited all 50 states of the country she loved so dearly.
Nana's way to say thank you was to hug everyone and tell them "God Bless You."
"On that last day she was too weak and unable, so please allow us, her children and grandchildren, to offer an extremely poor substitution by sending our most heart felt thanks to Dr. David Hoffman, Dr. Eunice Ann Wong, Jennifer in emergency, and Greg and Mike from MICU at St. Elizabeth Main Campus. We have such peace in knowing how each of you helped our Nana. We also wish to acknowledge Dr. Cubbison and his staff, especially Steffie and Chrissy, for all their care."
Ironically Nana died on Memorial Day. Even as she lay dying, she had every intention of going to the Memorial Day parade. She never missed an opportunity to honor her baby brother, Staff Sergeant Ronald C. Ross, of the U.S. Army, who was killed in Vietnam in July of 1968. She attended every Memorial Day parade and Veterans Day "Laying of the Roses" in downtown Youngstown, never missing one. Memorial Day 2013, she missed her first parade but instead was able to honor her brother personally in heaven.
She leaves her daughter, Melanie (Richard) Berry of Austintown; two sons, Bradley Alan Martin, who was born on her birthday, of Austintown and Ronald Alan Martin of Austintown; one granddaughter, Stefanie (Nathan) Hudzik of Austintown; two grandsons, Zackary Sutton of Austintown and Chad Berry, also of Austintown; one sister, Virginia Coonce of Hubbard; and two sister-in-laws, Renate Ross of Seattle and Nancy Martin of Phoenix.
Nana is also survived by her beloved cats, Ernie and MeowMeow. She gave them a home when they really needed one.
Besides her parents and husband, Nana was preceded in death by one son, Jeffrey Alan Martin; two sisters, Helen Rudolph and Betty Biggs; three brothers, Charles Ross, Burton Ross, and SSgt. Ronald C. Ross; and one brother-in-law, Robert Martin.
Funeral services will be held Saturday at noon at the Austintown Community Church, 242 South Canfield Niles Road, with the Rev. Walter Coy officiating.
Private interment will follow Monday at the Green Haven Memorial Gardens, Canfield.
Friends will be received Saturday from 10 to 11:45 a.m. at the church.
Memorial contributions may be made to the Austintown Community Church, 242 South Canfield Niles Road, Austintown, OH 44515.
Please visit www.beckerobits.com to send condolences.
Guestbook Entries
"My heart goes to the Martin Family. I sit here typing with sadness, but know you are in a happy place with loved ones. Please know I hold very fond memories of you & Mr. Martin from my young years over your house. You always had a smile on you beautiful face every time I saw you. You are missed. Rest In Peace."
» Aristotle (Munchie) Semancik on May 29, 2013
"I AM SOO SADENED TO FIND OUT OF YOUR MOTHER'S PASSING. SHE WAS THE MOST LOVING, KIND, SELFLESS, GOD-SERVING PERSON I'VE EVER KNOWN. YOU ALL ARE IN MY THOUGHTS AND I AM ASKING THAT GOD SURROUNDS YOUR FAMILY'S HEARTS AND MINDS WITH COMFORTING LOVE, OVERWHELMING PEACE & THE STRENGTH TO OVERCOME THE PAIN YOU NOW FEEL. I TOO SHARE SOO MANY HAPPY MEMORIES OF YOU BEAUTIFUL MOTHER & WILL MISS HER DEARLY. WITH HEARTFELT SYMPATHY, TERRIE MALANDRA & FAMILY"
» TERRIE MALANDRA on June 12, 2013
Sign the Guestbook
---