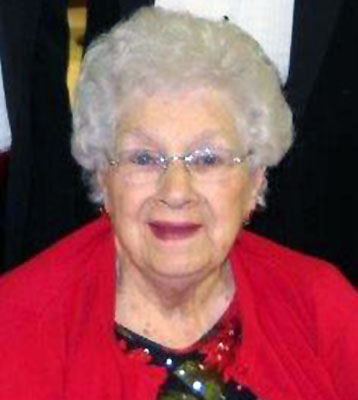 WILLA I. 'NOOTS' BALL
HUBBARD – Willa I. "Noots" Ball passed away on Tuesday afternoon, May 14, 2013, at Hospice House.
Noots was born in Hubbard on June 17, 1926, to Angelo LaCivita and Florence Kohl Her stepmother, Alice Kohl, also helped raise her.
Noots married the love of her life, Anthony J. Ball Jr., on Aug. 25, 1951.
Noots graduated from Hubbard High School in 1944, where she was a cheerleader and a member of the girl's basketball team. She had a deep love for Hubbard High and served her alma mater as co-founder of the HHS Football Moms, co-founder of the HHS Track Boosters and as a 17 year member of the HHS Band Boosters, of which she was president. One of her favorite activities was serving as chaperone for Band Camp every year. Noots' devotion to Hubbard High was rewarded with Alumni of the Year Award, and recently by a special visit by the entire Hubbard Marching Band at Assumption Village Nursing Home.
Noots worked for the Hubbard Public School as a cafeteria manager for 25 years, and was a member of the American Business Women's Association, where she was named Woman of the Year several times. She also was a member of the St. Patrick's Parish Council, the Adua Lodge and the Altar and Rosary Society.
Noots was a cancer survivor of 37 years and counseled other cancer patients by providing both educational and emotional support. Most recently, she served as President of the Residents Council at Assumption Village.
Noots was preceded in death by her husband in 1976; and her siblings, Elizabeth Cesene, Geraldine Fawcett and Frank and Michael LaCivita.
She will be deeply missed by her sisters, Dorothy Bernard and Ruth Carano; and her brothers, James and John LaCivita.
Her most treasured gifts are her daughters, Suzanne Frank of Orlando, Alice (Tom) Manning of Youngstown and Victoria (Steve) Dettore of New Castle, Pa.; and her sons, Anthony (Patricia) Ball and Timothy (Sandra) Ball of Hubbard. Noots was extremely proud of her grandchildren, Patrick, Tommy, Meaghan, Jaime, Jacque, Andrea, Michael and Shannon; and also her grand-dog, Primo and never missed their events or activities. Noots was also blessed with six great-grandchildren.
Noots will be remembered for her strong faith, her love of people and for always putting her family first.
Her family would like to extend sincerest thanks to her nieces and nephews of the Vince and Dorothy Bernard family as well as her cousins from the Marge and Rocky LaCivita family, who always loved and supported her. They would also like to extend their appreciation for other unnamed members of the Ball and LaCivita families. Her family would also like to thank the staff at Assumption Village and Hospice House for their loving care in her final months and days.
Family and friends may call on Friday from 4 to 8 p.m. at St. Patrick Church, Hubbard.
Funeral services will be held Saturday at 11 a.m. at St. Patrick Church.
The family suggests that memorial donations be made in Willa's name to Hospice House, 9803 Sharrott Road, Poland, OH 44514 or to the Hubbard High School Band Sponsors, 350 Hall Ave., Hubbard, OH 44425.
Arrangements are being handled by the Kelley-Robb-Cummins Funeral Home.
Please visit www.krcummins.com to view this obituary and to send condolences to the family.
Guestbook Entries
ABWA member
"Noots will be missed by many many people. She always had a smile on her face. I remember her from the joint ABWA functions we both attended."
» Linda L. Yoder on May 16, 2013
ABWA member
"Noots will be missed by many many people. She always had a smile on her face and treated everyone with kindness. I remember her from the ABWA functions that we both attended"
» Linda L. Yoder on May 16, 2013
"A beautiful lady with a beautiful heart. I will miss seeing her at The Assumption Village. She always had a genuine concern for all of the residents. My sympathies to the entire family."
» Diane Greenawalt on May 16, 2013
"I will keep you all in my prayers"
» mjcligrow on May 17, 2013
Sign the Guestbook
---