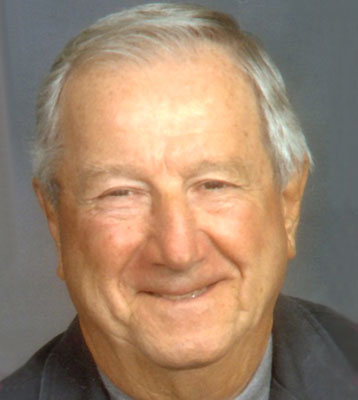 VALER T. 'VAL' LUCA
POLAND TOWNSHIP – Valer T. "Val" Luca, 84, formerly of Boardman, passed away peacefully at his residence on Tuesday, May 14, 2013, surrounded by his loving family, following a ten month battle with cancer.
Val was born Oct. 20, 1928, in Farrell, Pa., a son of the late John and Maria Manitz Luca.
He was raised in Farrell and was a member of Farrell High School's graduating Class of 1946. After high school, he enlisted in the U.S. Army, serving in Japan. After his honorable discharge from the Army, he attended Youngstown State University.
Val started his career as a buyer with the former Sharon Store and he later transferred to the former Strouss-Hirshberg Co., Youngstown, where he worked until 1979. He retired in 1991 from Shelley & Shelley Co. in Canton.
A Free and Accepted Mason, he belonged to the Kedron Lodge 389, West Middlesex, Valley of New Castle Consistory, and the Zem Zem Shriners Temple, Erie, Pa. Val loved boating and water skiing and at one time he belonged to the Conneaut Lake Ski Club. An enthusiastic sports fan, he loved the Pittsburgh Steelers. He lived a full and blessed life. Among his greatest joys was traveling. He and Elaine traveled "each and every highway" together. His favorite place was Ft. Myers, Fla., where they wintered for 15 years. He also had a great love for cooking.
He married his loving wife, the former Elaine Halman, on Sept. 2, 1962, she survives at the residence. Together they celebrated 50 years of marriage this past September at the Holy Cross Orthodox Church, where Val was a lifelong member. He loved his church and the "family" of parishioners, who continually prayed for him during his illness.
He also leaves to cherish his memory, his three children, Cindy Danis of Plymouth, Mich., Erik Luca and his wife, Laura of Avon, and Valerie (Rodney) Strichek, Boardman; and five grandchildren, Lauren, Nicholas and Matthew Danis and Maria and Madeline Luca.
He leaves a brother, John V. Luca II and his wife, Darleen; a brother-in-law, George Halman and his wife, Connie; a sister-in-law, Deborah Wilson (Jack); and several nieces and nephews.
In lieu of flowers, the family requests that memorial contributions be made to the Holy Cross Orthodox Church, 950 Maple Ave., Hermitage, PA 16148.
Also, the family would like to send special thanks to Hospice of the Valley and his special nurse, Leslie. They were a blessing to the family.
Calling hours will be Friday, May 17, 2013, from 4 to 7 p.m. at the J. Bradley McGonigle Funeral Home and Crematory Inc., 1090 E. State St., Sharon, Pa. and from 9 a.m. to 10 a.m. Saturday, May, 18, 2013, at the Holy Cross Orthodox Church, 950 Maple Drive, Hermitage, Pa. The Parastas service will begin at 7 p.m. Friday. A Masonic service will be held Friday prior to the calling hours at 3:45 p.m. by Kedron Lodge 389 at the funeral home.
Visit the web site www.McGonigleFuneralHomenandCrematory.com to send condolences to his family.
Funeral services will be at 10 a.m. Saturday, May 18, 2013, at the Holy Cross Orthodox Church, 950 Maple Drive, Hermitage, with the Rev. Dr. Calinic Berger, pastor of the Holy Cross Orthodox Church, officiating.
Interment will be at Oakwood Cemetery, Hermitage.
Guestbook Entries
"Thoughts and prayers are with you all. We always enjoyed conversation with Mr. Luca. God Bless!"
» Rob & Alyssa Armeni & Family on May 16, 2013
Sign the Guestbook
---