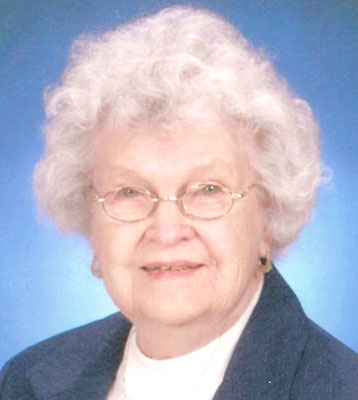 RACHEL L. HOXWORTH
BOARDMAN – Funeral services will be held Monday, May 20, at 11 a.m. at the Good Hope Lutheran Church, with Pastor Bob Quaintance officiating for Rachel L. Hoxworth, 93, who passed away on May 15, at Hospice of the Valley.
Friends and family may call from 5 to 7 p.m. on Sunday, May 19, at the Davis-Becker Funeral Home, at the new location, 8536 Market St. in Boardman, and one hour prior to funeral services at church.
Rachel was born in Youngstown on Oct. 28, 1919, a daughter of Max and Elizabeth Beye Boye.
In 1937, she graduated from Scienceville High School.
On Aug. 17, 1941, she married Walter J. Hoxworth, who passed away in June of 1993.
After World War II, she moved to Struthers and then to Boardman in 1970. Rachel worked in the accounting department of Sears for 23 years prior to retiring in 1983. During World War II, she worked at Strouss Department Store. Rachel was also a waitress at several restaurants and a baker, known for her pies.
Very active in the church, Rachel was a member of the Good Hope Lutheran Church in Boardman and a former member of the Woodland Avenue Lutheran Church in Youngstown. She was a Sunday school teacher and had been a member and officer of Woodland Twig, Jr., and Sr. Luther Leagues, the choir, Ruth Circle, Booster Club and ELCA Women. She formerly served as the Primary Superintendent of the Woodland Avenue Church. Rachel was a former member of the Daughters of American Revolution in Struthers and was also a member of Sears Friendship Club, Ki-Nu-Ka Flower Club, and the Meadow Lane Card Club. She loved to crochet, read and study the Bible, and to read stories and poetry to the groups to which she belonged.
Her memory will be cherished by her sons, Ronald (Joanne) of North Lima and Gary (Deanna) Hoxworth of Las Cruces, N.M.; her grandsons, Eric (Ginger) of Austin, Texas, Jeffrey (Nadya) of Cumming, Ga., Joseph (Nicole) of Phoenix and Christopher (Betsy) of Las Cruces; and great-grandchildren, Kevin, Caitlin, Ian, Jessica, Tiffany, Ryan, Nathan, Madison, Vlad and Benjamin.
Rachel was preceded in death by her parents and stepmother, Ina Belle Goode Boye; her son, Walter B., killed in Vietnam; infant daughter, Lucinda; her sister, Elmo Finley; brother, William Boye; her stepbrother, Bart (Anne) Goode; grandparents, William and Elizabeth Beye; and her aunt, Elmo Beye, who raised her.
Rachel's family requests any tributes received take the form of monetary contributions in Rachel's name to either Good Hope Lutheran Church, 98 Homestead, Boardman, OH, or to Hospice of The Valley, Hospice House, 9803 Sharrott Road, Poland, OH 44514.
The family has entrusted their loved one to the care of the Davis-Becker Funeral Home in Boardman.
Interment will take place at Lake Park Cemetery.
Guestbook Entries
"Aunt Rachel was so much fun to be around. We loved her visits to see us in CA. She had the best laugh! I will miss her. Love, Cori Whalen "
» Cori Whalen on May 17, 2013
"Just want you all to know that I'm so sorry to have heard about Rachel's death. My mom and dad spoke of her often. My prayer are with you! "
» Barbara Beye Foss on May 26, 2013
"She sounds like one of the Beye family, she will be missed."
» Thomas Davis on May 27, 2013
"Your Mother was a friend of my Mom (Margaret Douglas), at Shepherd of the Valley. She had the most gorgeous blue eyes. Now she and Mom are eating together at the table of our Lord in Heaven. She was a wonderful lady. My prayers are with all of you."
» Janet Downing on June 26, 2013
Sign the Guestbook
---