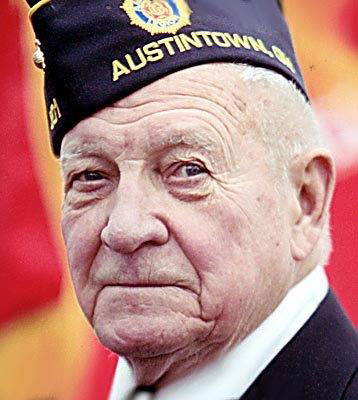 MICHAEL FERENCHIK
AUSTINTOWN – Michael Ferenchik, 89, passed away Tuesday morning, May 14, 2013, at St. Elizabeth Health Center in Youngstown.
Michael was born Sept. 17, 1923, in Youngstown, the son of the late Michael and Anna Yaske Ferenchik, and was a lifelong area resident.
Mike served in the Civilian Conservation Corps in 1940 and 1941. He then enlisted in the U.S. Marine Corps, proudly serving from March of 1943 until January of 1946 during World War II. He spent 26 of those months overseas as part of the 4th Separate Wire Platoon, installing telephone lines. He subsequently enlisted in the Marine Corps Reserve, and served as a Drill Instructor in San Diego until May of 1952.
Michael was a steelworker who worked at U.S. Steel, Ohio Works as a plumber and pipefitter for 33 years, retiring when the mill closed in 1981.
He was a member of American Legion Post No. 301 in Austintown, a member of VFW Post No. 4237, and the Marine Corps League Detachment No. 494.
A member of St. Mary Byzantine Catholic Church in Youngstown, he was instrumental in building the parish social hall as a volunteer with the "Gratis" Construction Company. He was also a member of the Golden Pillars at the church, and was a volunteer bingo worker and bartender.
His beloved wife, Sally Sano Ferenchik, whom he married Sept. 28, 1957, passed away July 24, 2002.
Michael leaves two daughters, Mary Ann Smith of Austintown and Kathy (Art) DeCenso of New Middletown; two grandchildren, Jenny and Andy Smith; two sisters-in-law, Mary Ferenchik and Helene Sano; and several nieces and nephews.
Besides his wife, Michael was preceded in death by a brother, John Ferenchik; a sister, Betty Tverdosi; and two brothers-in-law, Dave Sano and Nick Tverdosi.
Family and friends may call from 5 to 8 p.m., today, May 16, at Kinnick Funeral Home, 477 N. Meridian Road, Youngstown, where a prayer service will take place at 4:30 p.m.
Funeral services will begin on Friday at 9:30 a.m. at the funeral home, and continue at 10 a.m. at St. Mary Byzantine Catholic Church on South Belle Vista Avenue, on Youngstown's west side.
A committal service with military honors will follow at Calvary Cemetery in Youngstown.
Memorial contributions may be made in Michael's name to Hospice of the Valley, 5190 Market St., Boardman, OH 44512.
Visit kinnickfuneralhome.com to view this obituary and to send condolences online to Michael's family.
Guestbook Entries
"Jen, I'm thinking of you at this time. I know how much you loved your grampa. ~chris"
» Chris Kennel on May 16, 2013
AMERICAN LEGIONAIRE 301
"Dear Comrade and Family you were such a good and caring human being and I am honored to have known you and served in the American Legion 301 with you. God Bless all of you my prayers are with you. Sister Melanie Mayesky"
» Melanie M. Mayesky on May 16, 2013
Sign the Guestbook
---