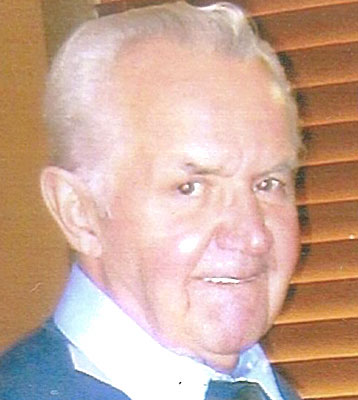 LYLE H. EDWARDS
HUBBARD – Lyle H. Edwards, 78, entered into eternal rest on May 14, 2013, at ValleyCare Northside Medical Center.
Mr. Edwards was born Sept. 5, 1934, in Hillsville, Pa., a son of Robert C. and Alice (Peterson) Edwards.
He was a 1952 graduate of Lowellville High School and served in the U.S. Army from May of 1954 until May of 1956. Lyle worked in Production Planning for Sharon Steel for 30 years and several years in management for American CAP.
He was a member of the Lowellville United Methodist Church and volunteered much of his time as the driver for the Hubbard Senior Van. Lyle enjoyed his family, gardening, reading, bowling, and doing jigsaw and crossword puzzles. Mr. Edwards and his wife also enjoyed traveling via Amtrak and Anderson Coach, traveling through all 50 states.
He is survived by his junior high school sweetheart and wife of 56 years, the former Katharine Hartman, whom he married Sept. 29, 1956; two brothers, Larry (Esther) Edwards of Struthers and Richard Edwards of Florida; his "adopted" and very special granddaughter, Kim Osborn of Masury; and 84 nieces and nephews, whom he always enjoyed lending a helping hand to.
In addition to his parents, he was preceded in death by his brothers, Robert, Norman, and James Edwards; and three sisters, Vivian Bilinsky, Janet Lago and Carol Rhoads.
Per Lyle's request, there will be no calling hours or services.
Mr. Edwards family would like to send a heartfelt thanks to Dr. Nazim Jaffer as well as the staff of ValleyCare Northside Medical Center.
Please visit www.beckerobits.com to send condolences.
Guestbook Entries
"we will miss you at our breakfasts."
» jerri smith on May 16, 2013
"Kay I am so sorry to hear of Lyle's passing. I will keep you in my prayers"
» mj cligrow on May 17, 2013
"Kay I am so sorry to hear of Lyle's passing. I will keep you in my prayers"
» mj cligrow on May 17, 2013
"Sorry to hear of Lyle's passing, We will keep you in our thoughts and prayers."
» johncligrow on May 20, 2013
Sign the Guestbook
---