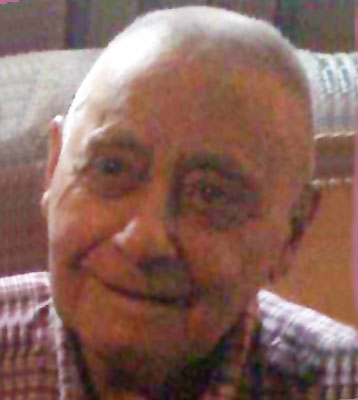 LEO A. RISPINTO
NEW SPRINGFIELD – Services will be held on Monday at 1 p.m. at the Clemente Funeral Home in Struthers, for Leo A. Rispinto, 88, whom the Lord called home to eternal rest, on Saturday, May 11, 2013.
Leo was born Dec. 15, 1924, in Campbell, a son of Caio "Guy" and Josephine Marzano Rispinto. He lived in the area his whole life and served in the U.S. Marine Corp. during World War II in the Pacific.
He worked at the Youngstown Sheet and Tube Company and then went on to be owner and operator of A & A Tire Inc. in New Springfield. Leo also was an Express Mail Contractor for the United States Postal Service for 20 years.
Leo enjoyed working in the garden and spending time with his family. He was also an avid Pittsburgh Steelers fan.
Leo leaves his loving wife, the former Edith M. Nero of New Springfield, whom he married on April 24, 1959.
Leo leaves to cherish his memory, three daughters, Linda (Joe Sr.) Rumplik of Cleveland, Nancie Miller of Columbiana and Denise (Edson Sr.) Wolfcale of Ravenna; one son, Leonard A. (Rhonda) Jr. of New Middletown; four grandchildren, Joe Rumplik Jr., Jessica Miller, Edson Wolfcale Jr., and Nicholas Rispinto; two brothers Adio (Shirley) Rispinto of Campbell and Samuel Rispinto of Apache Junction, Ariz.; and several nieces and nephews.
He was preceded in death by his parents and one sister, Nina A. Millette.
Friends may call on Saturday from 2 to 6 p.m. at the Clemente Funeral Home in Struthers.
Visit www.clementefuneralhomes.com to view this obituary and send condolences.
Guestbook Entries
"Grandpa, I love you and I miss you very much. You were more than just my grandpa, you were my hero, my friend and my mentor. Love always and forever, Jessica"
» Jessica on May 16, 2013
"my deepest sympathy to linda and family in this difficult time."
» ashley on May 16, 2013
"Dad, I love you and I miss you very much. You were always there for me when I needed you. You were more than just my dad, you were my hero, my friend, my life and my mentor. You made me the person I am today because of your love and the values you instilled in me. I will always be your #1 daughter. God Bless You Love always and forever, Nancie"
» Nancie on May 16, 2013
"Leo, I'll miss your funny antic dotes you always had upon my arrival to the dock in Ytown,i'll cherish your smile and our friendship that we share. God rest your Soul!"
» Duane Gorgie on May 16, 2013
"Linda and I will miss you and the good times at the farm and all at weddings old friend. Rest in peace Marine. SEMPER FI "
» Eddie & Linda Johnson on May 18, 2013
"Linda and I will miss you and the good times at the farm and all at weddings old friend. Rest in peace Marine. SEMPER FI "
» Eddie & Linda Johnson on May 18, 2013
"You were a great man like no other. You make me proud to call you Uncle. Your memory will live on in all of us. Aunt Edith and Uncle Leo had the greatest love I have ever had the pleasure to witness. You were truly soul mates and not even though death can you be separated. Your love was an inspiration to us all."
» Henrietta(etta)Doerr on June 8, 2013
Sign the Guestbook
---