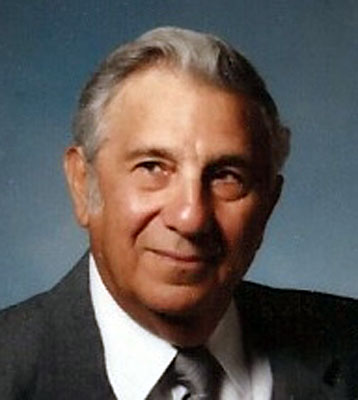 JOE R. 'SMOKEY' MORTELLARO
YOUNGSTOWN – There will be a Mass of Christian Burial held on Friday, May 17, 2013, at 10 a.m. at Our Lady of Mount Carmel Church, Youngstown, with the Very Rev. Msgr. Michael J. Cariglio Jr. officiating, preceded by a 9:15 a.m. prayer service held at the Rossi & Santucci Funeral Home, 4700 Market St., Boardman, for Joe R. "Smokey" Mortellaro, 87, who passed away Friday morning, May 14, 2013, with his loving family by his side.
Joe will always be remembered for being such a generous, helpful, kind, cheerful, strong and loving man to his wife and family.
He was born July 29, 1925, in Youngstown, the son of Nicholas and Mary (Rudy) Mortellaro, and was a lifelong area resident.
Joe attended East High School and then served in the U.S. Navy during World War II, earning the rank of Seaman First Class. He was awarded the following decorations, the Good Conduct Medal, the American Area Ribbon, the Asiatic Pacific Area Ribbon and the World War II Victory Medal. Joe received an honorable discharge on Jan. 15, 1946.
He retired after working over 36 years from LTV Steel Company as a press operator.
Joe was a member of Our Lady of Mount Carmel Church, Youngstown, the ARCO Club and St. Anthony's Bocce League in Struthers.
He enjoyed golfing, playing bocce with his friends and would always root on his lifelong favorite team, the Cleveland Browns.
He leaves behind to hold on to his precious memories, his wife of over 60 years, Rose Mortellaro, whom he married on Oct. 25, 1952; three children, Janice (Joe) Petrek of Parma, Joe (Janell) Mortellaro of Poland and Silva (Nicusor) Serban of Alexandria, Va.; six grandchildren, Brandon, Carrie, Joseph, Julie, Nicholas and Elena; along with many nieces and nephews and great-nieces and great-nephews.
Besides his parents, Joe was preceded in death by two sisters, Ann Santucci and Rose Carbon; and five brothers, Benny, Pete, Jack, Sam and Ross "Rimi."
Friends may call today, May 16, 2013, from 5 p.m. to 7 p.m. at the Rossi & Santucci Funeral Home, 4700 Market St., Boardman.
Burial will take place at Calvary Cemetery, Youngstown, where the great men of the Trumbull County American Legion will provide full military honors for Joe.
Family and friends may visit www.rossisantuccifh.com to view this obituary, sign the guest book and send condolences to Mortellaro family.
Guestbook Entries
nephew
"Sorry for your loss. He was a good man. May he rest in peace. Love, Anthony"
» anthony esposito on May 16, 2013
"<My thoughts are with you, and your family. I understand, and share your feelings."
» shirley mortellaro on May 18, 2013
neice ( by marriage)
"My thoughts are with you, with understanding."
» shirley mortellaro on May 18, 2013
Sign the Guestbook
---