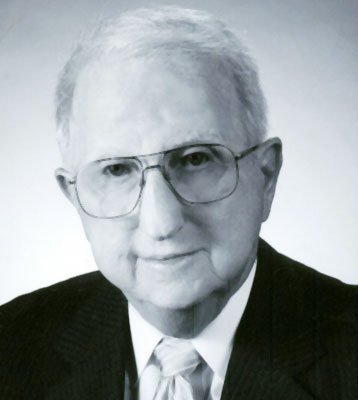 JAMES E. FOX
BOARDMAN – Prayers will be at 10 a.m. Saturday at the Fox Funeral Home, Boardman, followed by a Mass of Christian Burial at 10:30 a.m. at St. Charles Church, celebrated by Rev. Philip Rogers, for James E. Fox, 87, who passed away Tuesday morning at Hampton Woods Nursing Center.
"Jim" was born Oct. 17, 1925, in Youngstown, a son of the late Edward J. and Molly Holden Fox, and was a life-long area resident.
He went to St. Patrick's Grade School and graduated from Ursuline High School with the Class of 1944.
He was a World War II veteran, who served his country in the U.S. Navy. Jim was a 1949 graduate of the Cleveland College of Mortuary Science. He worked alongside his older brother, John as a Funeral Director and Embalmer at the Edward J. Fox and Sons Funeral Home.
He was given the Distinguished Service Award in 1999 by the Ohio Funeral Directors Association for 50 years of service as a Funeral Director and Embalmer. He was a long time parishioner at St. Patrick and St. Charles Parishes. Jim was a charter member of the Mahoning County Gaelic Society, V.F.W Post 1423, Ohio Funeral Directors Association and the Tri-County Funeral Directors Association. Jim held a private pilot's license. He enjoyed golfing, joined Tippecanoe Country Club in 1956 and participated in many local charity events and golf outings. He had four holes-in-one.
He leaves to cherish his memory, his wife, the former Nancy A. Johnston, whom he married on Jan. 7, 1947; his two sons, George Fox and Timothy Fox, both of Boardman; a daughter, Mary Fox of Boardman; two sisters-in-law, Alice Fox and Mary Leah Beil, both of Boardman; two grandchildren, Lynn (Mark) Klein and Emily (Camron) Wright; and two great-grandchildren, Benjamin and Nathan.
Besides his parents, Jim was preceded in death by his daughter-in-law, Terry Syphard Fox; a brother, John E. Fox; a sister, Mary (Jim) Hyland; and a brother-in-law, Neale Beil.
Friends may call from 4 to 8 p.m. Friday at the Fox Funeral Home.
Family and friends may visit www.foxfuneralhome.org to view this obituary and send condolences.
Guestbook Entries
"our deepest sympathy and thoughts are with the fox family. sam colucci jr."
» sam cokucci family on May 16, 2013
San Jacinto, California
"Jimmy and my dad Jim Sweeney ( mother was Margarite Walsh/ married Tom Sweeney) were shirt-tail cousins, and I heard many stories growing up about the Fox & Sweeney boys and their antics ! So sorry for your loss; Earth has lost a wonderful man; Haven gained another saint. I am sure our "boys" will be together again. "
» Mary Sweeney Healey on May 16, 2013
Mrs.
"Deepest Sympathy from the Albert Altiero Family. Jim, was very good too us when my dad passed away 25 years ago. He will never be forgotten by our family. He made the situation easy on all seven of us. Thank you Jim. May your new journey bring you peace. R.I.P."
» Dori Anne Altiero Riley on May 16, 2013
"My condolences to the Fox family. He raised a beautiful family that will serve as testament to his life."
» elizabeth Damron on May 17, 2013
"I wish we could be there to celebrate his life with you all. He was such a great guy and he has left a hole in our hearts with his passing. Thinking of you with lots of love."
» Lynn Eckles/Taylor Ogden on May 17, 2013
"My deepest sympathy is with the Fox family. I am so sorry for your loss Mr. fox was a wonderful man and taught me many things and left a life long impact on many people because he was such a great person. Sometimes it is hard to imagine why life has a curve in the road that suddenly changes everything. While there are no maps to steer everyone through this rough time, there are certain assurances to help guide our way... and having faith, perhaps is the greatest assurance of all- faith that he is in a better place and much happier now as he looks down upon us. Have faith that however painful it may seem at times his memory will live on forever amongst the many people he has touched. "
» Alexis Smith on May 17, 2013
"i am sorry for your loss. remember the good times.. tim & george."
» LEONARD on May 18, 2013
Sign the Guestbook
---