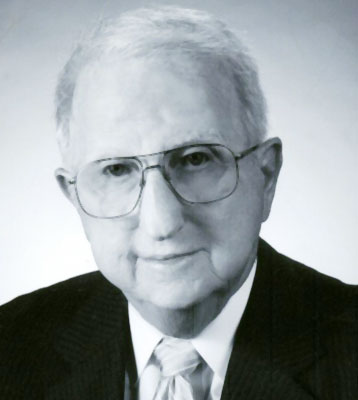 BOARDMAN – Prayers will be at 10 a.m. Saturday at the Fox Funeral Home, Boardman, followed by a Mass of Christian Burial at 10:30 a.m. at St. Charles Church, celebrated by Rev. Philip Rogers, for James E. Fox, 87, who passed away Tuesday morning at Hampton Woods Nursing Center.
"Jim" was born Oct. 17, 1925, in Youngstown, a son of the late Edward J. and Molly Holden Fox, and was a life-long area resident.
He went to St. Patrick's Grade School and graduated from Ursuline High School with the Class of 1944.
He was a World War II veteran, who served his country in the U.S. Navy. Jim was a 1949 graduate of the Cleveland College of Mortuary Science. He worked alongside his older brother, John as a Funeral Director and Embalmer at the Edward J. Fox and Sons Funeral Home.
He was given the Distinguished Service Award in 1999 by the Ohio Funeral Directors Association for 50 years of service as a Funeral Director and Embalmer. He was a long time parishioner at St. Patrick and St. Charles Parishes. Jim was a charter member of the Mahoning County Gaelic Society, V.F.W Post 1423, Ohio Funeral Directors Association and the Tri-County Funeral Directors Association. Jim held a private pilot's license. He enjoyed golfing, joined Tippecanoe Country Club in 1956 and participated in many local charity events and golf outings. He had four holes-in-one.
He leaves to cherish his memory, his wife, the former Nancy A. Johnston, whom he married on Jan. 7, 1947; his two sons, George Fox and Timothy Fox, both of Boardman; a daughter, Mary Fox of Boardman; two sisters-in-law, Alice Fox and Mary Leah Beil, both of Boardman; two grandchildren, Lynn (Mark) Klein and Emily (Camron) Wright; and two great-grandchildren, Benjamin and Nathan.
Besides his parents, Jim was preceded in death by his daughter-in-law, Terry Syphard Fox; a brother, John E. Fox; a sister, Mary (Jim) Hyland; and a brother-in-law, Neale Beil.
Friends may call from 4 to 8 p.m. Friday at the Fox Funeral Home.
Family and friends may visit www.foxfuneralhome.org to view this obituary and send condolences.