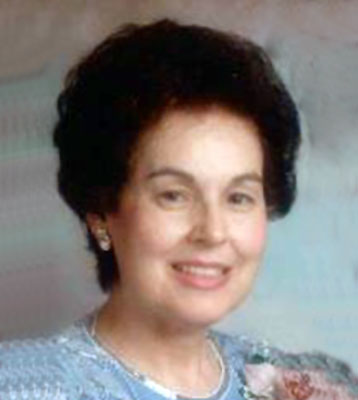 ARITE J. TOMARAKOS
NEW CASTLE, PA. – Arite J. Tomarakos, 75, formerly of 14 W. Hazelcroft Ave., passed away the morning of May 14, 2013, at the Haven Convalescent Home.
Arite was born in Bangor, Maine on Aug. 25, 1937. She was the daughter of the late John and Anna Azimopoulos Vomvoris.
Arite was married for 50 years to the Very Reverend Photios (Frank) Tomarakos. He survives at home.
Mrs. Tomarakos was a graduate of Bangor High School, Class of 1955. She went on to graduate for the University of Maine in 1959 with a bachelor's degree in Biology. Arite worked 40 years as a Medical Technician for the former St. Francis Hospital in New Castle and Lakeside Hospital in Kansas City.
Mrs. Tomarakos was a member of the Ladies of the Philoptokos. She enjoyed cooking and baking for her family and her church. Mrs. Tomarakos taught Sunday school in Greek at St. George Greek Orthodox Church. She also enjoyed raising flowers at her home.
In addition to her husband, Arite is survived by two sons, Peter P. Tomarakos of New Castle and John P. (Debbie) Tomarakos, of Boston; daughter, Maria P. (Alex) Katsaras of Mentor; two brothers, George (Gloria) Vomvoris of Waxahachie, Texas and William (Cynthia) Vomvoris of Dover, N.H.; and eight grandchildren.
Arite was preceded in death by her parents.
Calling hours for Arite will be held from 9 to 10 a.m., Friday, May 17, 2013, at St. George Greek Orthodox Church, 315 W. Englewood Ave., New Castle, PA 16105.
A Divine Liturgy will be held at 10 a.m. Friday, followed by a funeral service at 11 a.m. at St. George Greek Orthodox Church. His Eminence Metropolitan Savas of Pittsburgh will participate in the funeral service along with Father Theophanis Nacopoulos of Erie, Pa. The Rite of Committal and Burial will be at Archangel Michael Cemetery Chapel in Campbell.
Local arrangements were entrusted to the Noga Funeral Home Inc., 1142 S. Mill St., New Castle.
The family has asked that memorial contributions be made in her name to St. George Greek Orthodox Church, 315 W. Englewood Ave., New Castle, PA 16105.
Visit nogafuneralhome.com to send or view online condolences.
Guestbook Entries
Sign the Guestbook
---