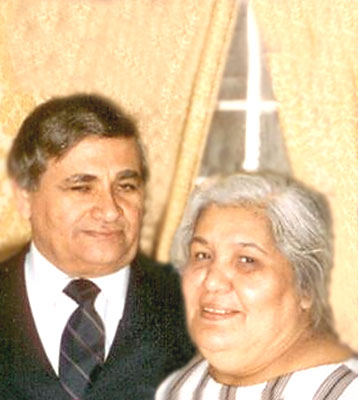 HERIBERTO G. FLORES
"Together Again"
CANFIELD – Funeral services will be held Saturday at 9:30 a.m. at the Wasko Funeral Home and at 10 a.m. at the Spanish Evangelical Church in Youngstown, for Heriberto G. Flores, 88, formerly of Campbell, who passed away Monday afternoon at Hospice House.
Heriberto was born March 15, 1925, in Juncos, Puerto Rico, the son of Felipe and Esequila Gomez Flores.
He lived in New York for a year, Texas for two years, and Michigan for four years, before coming to this area in 1952.
He worked as a steel worker at Republic-LTV Steel, retiring in 1986, after 33 years of service. He also served as a representative to the Steel Worker's Union.
Heriberto was a member of the Spanish Evangelical Church and at one time served as a Deacon. The church was a very important part of his life.
He was an avid baseball fan and cheered for the Cleveland Indians and New York Yankees. Heriberto also enjoyed cheering on the Cleveland Browns.
He enjoyed being with his family and he loved his dogs, Spencer and Katie. Heriberto loved walking at the Southern Park Mall.
His wife, the former, Rose Candia, whom he married Dec. 4, 1953, passed away Sept. 17, 1999.
Heriberto leaves to cherish his memory, his children, Dorothy Morton of Grand Junction, Colo., Thomas (Kimberly) Morton of Columbiana, Lillian (John) Galbraith of Canfield, Herbert Jr. (Maria) Flores of Youngstown and Robert (Anna) Flores of Campbell; a sister, Maria Louisa of Puerto Rico; 15 grandchildren; 20 great-grandchildren; 10 great-great-grandchildren; and many nieces and nephews.
Besides his wife, he was preceded in death by his parents; a daughter, Betty Ortiz; two sisters, Felita and Ramonita Flores; and a brother, Carmello Flores.
The Flores family has entrusted their loved one to the care of the Wasko Funeral Home and will receive friends Friday from 5 to 8 p.m.
The Flores family would like to especially thank Hospice House, Dr. Joseph Zeno and his staff, and his church family at the Spanish Evangelical Church.
Visit www.waskofamily.com to view this obituary and to send the Flores family condolences.
A wise man once said, "Well, this case is closed."
Guestbook Entries
"Lillian,John,& family, We are so very sorry to hear of the passing of your Dad.Our love and sympathy are with you.Joan,Ron & family"
» Joan (Leonard) Rhodes on May 9, 2013
"Lillian, John & Family May the sorrow in your hearts soon be filled with the loving memories of Heriberto. Love, Dale & Joyce "
» Dale Galbraith on May 12, 2013
Sign the Guestbook
---