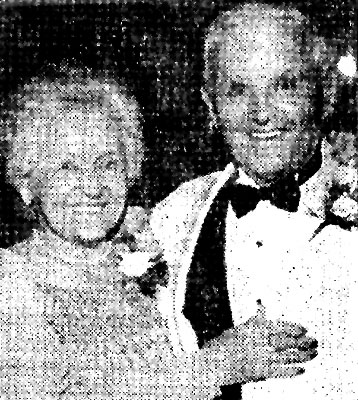 THOMAS A. DI CARLO
"Together Again"
KNOXVILLE, TENN. – Thomas A. Di Carlo, 101, met with the Lord on Friday, May 3, 2013.
"Tom" was born on April 28, 1912, in Giulianova, Italy, coming to Youngstown, when he was three and going back to Italy and returning to the United States of America when he was 11. He was the son of Emma Federici and Guilio Di Carlo.
Tom married Kitty DiCarlo, the love of his life, a homemaker and wonderful mother and grandmother, on Aug. 11, 1934. When she went to be with the lord on June of 2009, Tom moved to Tennessee to live with his daughter, Cathy Hames.
He leaves his children, Cathy (John) Hames of Knoxville, with whom he made his home, Dolly (Tom) Green of Hubbard and Sonny (Marilyn) DiCarlo of Austintown. The family circle includes 13 grandchildren and seven great-grandchildren.
Tom was preceded in death by his parents; a baby daughter, Catherine; his sisters, Amelia Altiere, Linda Tonti, lrma Carano, and Betty Zappi; and a brother, Tony DiCarlo.
He retired in 1977 as body shop manager of Spartan Chevrolet in Boardman. He was a member and past Grand Knight of Hubbard Knights of Columbus, Council 2072 and was head usher at St. Patrick Catholic Church in Hubbard for many years. He enjoyed fishing, hunting, bowling, golfing, having a hole in one, and when younger, buying old cars and repairing them to sell.
Mr. Di Carlo will be cremated in Knoxville and there will be no calling hours.
The family thanks the doctors that took such great and gentle care of him and all the employees of hospice in Knoxville.
Arrangements entrusted to the Click Funeral Home, 9020 Middlebrook Pike, Knoxville, TN 37923, 865-694-3500.
Guestbook Entries
neighbor
"Dear Cathy, I am so sorry for your loss! I think of you often, my Friend...I remember picking the heads off the dandelions for your dad! He wanted a GREEN lawn! We had some great times and I enjoyed knowing both of your parents. They were always so kind to me. My prayers and condolences, Roxanne"
» Roxanne on May 8, 2013
"Grandpa is where he wants to be. We will all miss him terribly. "
» DeAnn on May 9, 2013
"Grandpa is where he really wants to be. He will be missed terribly."
» DeAnn on May 9, 2013
Mr.
"Hello Your Grandfather very possibly could be the Brother of my Grandfather, the siblings and parents seem to be the same and all came from same place. I can be reached at gwalkman@hotmail.com"
» Garry Walker(DiCarlo) on July 21, 2014
Sign the Guestbook
---