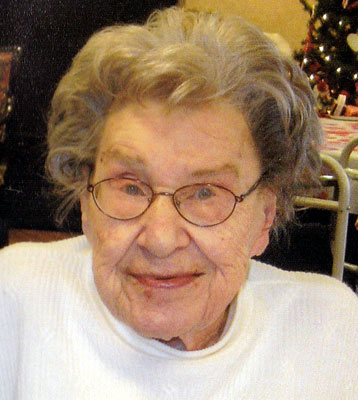 MARY V. MATEY
BOARDMAN – A Mass of Christian Burial will be celebrated Thursday afternoon at 5 p.m. at St. Charles Borromeo Church for Mary V. Matey, 97, former resident of Greenbriar Commons, who passed peacefully into Heaven on May 5, 2013, surrounded by her loving family.
Mary was born Nov. 1, 1915, in Troop, Pa., to Veronica and Bartholomew Chorba.
As a young girl she lived with her family in Monessen, Pa., where she met and later married Paul Matey on Nov. 25, 1939. She moved with him to New Castle, Pa., where they raised their family of three daughters and a son, who all survive, Marianne Jording of Granville, Pauline (Jack) Wyrie of New Philadelphia, Margaret (Ben) Ward of Upland, Calif. and Dennis (Sherry) Matey of New Springfield.
She was preceded in death by her husband, Paul; and her infant son, Richard.
Mary was always proud of her eight grandchildren, who also survive, Joy Johnson Riffle of Granville, Dina-Rae Johnson Dorado of Irvine, Calif., Deanna Wyrie Brennan of Spanish Fort, Ala., Darren Wyrie of Gainesville, Ga., Heather Green Petersen of Yuma, Ariz., Chalsa Matey of Columbiana, Seth Matey of New Springfield, and Kyla Matey Joyner of Kent. She is also survived by 19 great-grandchildren.
Mary and her husband, Paul, eventually moved from Pennsylvania to Boardman and for the last 40 plus years, Mary was very involved in the community and her church. She was an active member of both the Boardman and Poland Retired Seniors Volunteer Programs (RSVP). She served at the St. Vincent DePaul Soup Kitchen and was an usher at the Youngstown Playhouse. At St. Charles Church Mary was a Eucharistic Minister at Mass as well as to the homebound. She was a member of the Ladies Guild and "Over 55 Club" at St. Charles.
Physical fitness was important to Mary. She swam and worked out at the former European Heath Spa, where she was also employed. She was a mall walker at Boardman Mall. Mary seldom sat still but when she did it was to crochet or play cards. She loved joining her friends in their 500 Bid Club and playing board games with her grandchildren. Mary was an avid bowler and very proud of her accomplishments in that sport. She was the oldest member in the St. Charles Ladies League and held one of the highest averages, all the while belonging to two other leagues. She was honored in her "senior years" for bowling a "600 Set" and when talking about it would always add, "But my actual score was 620."
Above all, Mary was a loving wife, mother, grandmother and friend and faithful follower of Jesus Christ. She will be sadly missed by all who knew and loved her.
Family and friends may call Thursday from 4 to 4:45 p.m. at St. Charles Borromeo Church.
Professional arrangements are being handled by the Higgins-Reardon Funeral Homes, Boardman-Canfield Chapel. 
Guestbook Entries
Sign the Guestbook
---