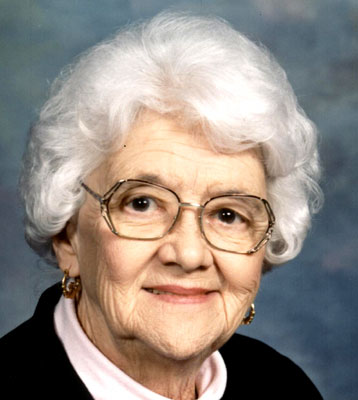 FRANCIS L. SULLIVAN
CANFIELD – Prayers will be at 10:30 a.m. on Wednesday at the Fox Funeral Home in Boardman, followed by a Mass of Christian Burial at 11 a.m. at St. Charles Church for Frances L. Sullivan, 92, who passed away peacefully Sunday morning.
Frances was born Oct. 17, 1920, in Youngstown, a daughter of Henry E. Jordan and Caroline Perkins Mitchell.
She was a 1938 graduate of South High School and worked in the micro film department of the Mahoning County Court House. She was a member of St. Charles Church, its Ladies Guild and over 55 Club. Frances also belonged to the Junior Seton Club and PERS of Mahoning County. She was noted for her baking, especially her fruit cakes.
Frances enjoyed going to all of her grand children and great-grandchildren's activities and never missed acknowledging anyones birthday. An avid sports fan, Fran enjoyed watching the Fighting Irish of Notre Dame and the Cleveland Indians.
Her husband, Paul E Sullivan Sr., whom she married Oct. 22, 1938, passed away April 24, 1973.
She leaves to cherish her memory, three sons, Paul E. (Kathleen) Sullivan Jr. of Lakewood, James F. (Anne) Sullivan of Canfield and Robert P. (Eileen) Sullivan of Grover, Mo.; a daughter, Kathleen (Dennis) Pavlich of Canfield; 15 grandchildren; and 30 great-grandchildren.
Besides her husband, Fran was preceded in death by her stepfather, Frank Mitchell; a son, Thomas E. Sullivan Sr.; infant daughter, Shirley Ann; and a daughter-in-lawn, Yvonne Sullivan.
Friends may call from 4 to 8 p.m. Tuesday at the Fox Funeral Home in Boardman.
Material tributes can be made in Frances's name to the Ursuline Sisters, 4250 Shields Road, Canfield, OH 44406, or to the Rich Center for Autism, One University Plaza, Youngstown, OH 44502.
Family and friends may visit www.foxfuneralhome.org to view this obituary and to send condolences.
Guestbook Entries
"What a great lady. always sweet to everyone. You will be missed ''Mom'' Sullivan. Prayers, Jule and Wally Dunne"
» Jule Dunne on May 6, 2013
"Nothing but fond memories of a very sweet lady. Our thoughts and prayers are with the whole family. Stay strong, Dan & Therese Durkin"
» Dan & Therese Durkin on May 6, 2013
"My thought and prayers are with the Sullivan family."
» Mary Caye Kilbane on May 7, 2013
"On behalf of the entire Farrell family (72 of us), we send our condolences to the entire Sullivan family. Our thoughts and prayers are with you all. Your Mother and Father have left a long legacy of Sullivan's to carry on for generations. God Bless. "
» Daniel Farrell on May 8, 2013
"Our sincere condolences on the passing of the matriarch of the Sullivan Family. Mrs. Sullivan will always be remembered by her kind smile, strong faith, and her love of family."
» The Kevin Larkin Family on May 10, 2013
Sign the Guestbook
---