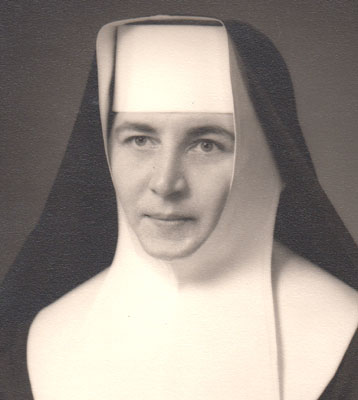 SR. DENNYS CLARA POLOVISCHAK SSMI
NYACK, N.Y. – Sr. Dennys SSMI, formerly Clara Polovischak, died peacefully on April 20, 2013, at the Nyack Nursing Home in Nyack.
She was born in Youngstown on March 5, 1927, the youngest of 13 children of Nicholas Polovischak and Anna Dennys Polovischak.
She was very devoted to her mother who had been left a young widow when little Clara was only two years old. She grew up on Youngstown's northside and attended The Rayen School.
She was a member of the Holy Trinity Ukrainian Catholic Church, where she was active in the Senior Sodality and the League of Ukrainian Catholics.
In 1953, she answered her religious calling and entered the order of the Sister Servants of Mary Immaculate. Sister Dennys continued her education and received a B.S. in Elementary Education from Gwenedd Mercy College in Philadelphia and furthered her education at Queen of the Apostles College and Seton Hall University. She spent many years as a teacher and principal in schools in Pennsylvania, New Jersey and Connecticut.
For several years, Sr. Dennys served as the Administrator of St. Joseph's Nursing Home in Sloatsburg, N.Y. and then as the Administrator at St. Mary's Villa in Sloatsburg, where she was the Coordinator of the annual Dormition Pilgrimage. She was also instrumental in building and running the Sheptysky Arms, a housing complex for low-income elderly in Pittsburgh.
Sr. Dennys was a prankster with a keen sense of humor and she loved telling jokes and stories. She was very proud of her Ukrainian heritage. She enjoyed doing needlework in her spare time and made many traditional embroidered tea towels and pillow tops that have become family treasures.
In addition to her parents, Sr. Dennys was predeceased by brothers Stephen, William, John, Michael and Andrew; and sisters Ann Fortunato, Mary Pavuk, infant Helen, Ethel Terlesky, Julia Linert, Christine Shirilla and Florence Rupnik.
Sr. Dennys leaves to cherish her memory, her sister-in-law and good friend, Theresa Polovischak, and several nieces, nephews, great-nieces and great-nephews.
A funeral Divine Liturgy was celebrated by Bishop Paul Chromnycky and the Rev. Edward Young at St. Mary's Villa on April 24, followed by internment in Sloatsburg.
Contributions may be made in Sr. Dennys' memory to Sister Servants Mary Immaculate, P.O. Box 9, 150 Sister Servants Lane, Sloatsburg, NY 10974-0009.
Guestbook Entries
Sign the Guestbook
---