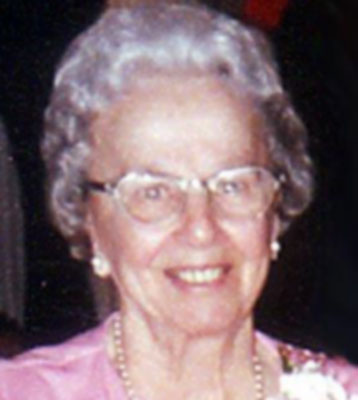 MARY E. MARKS (MARKUSIC
YOUNGSTOWN – Mary E. Marks, 98, formerly of Donald Avenue on the city's west side, passed away Wednesday morning peacefully in her sleep, May 1, 2013, at Omni West Assisted Living.
Mary was born Aug. 19, 1914, in Cleveland, a daughter of the late Mike and Helen Grdosic Sintic, and came to this area as a young woman in the mid-1930s.
She was a homemaker who dedicated her adult life to raising and caring for her family.
Mrs. Marks was a member of Holy Apostles Parish, Sts. Peter & Paul Catholic Church, where she was a founding member of the Daughters of Sts. Peter & Paul and was an active volunteer for many parish projects.
Mary was recently honored as being the oldest current member of Sts. Peter & Paul Catholic Church. She was also a member of St. George Lodge No. 66, CFU.
Her husband, Michael Marks, whom she married Oct. 19, 1935, passed away Oct. 2, 1987.
She leaves her son, Michael M. (Rose Anna) Markusic of Summerfield, Fla.; her daughter, Elizabeth C. Listopad of Hermitage, Pa.; two grandsons, David Markusic of Gainesville, Fla. and Michael Listopad of West Middlesex, Pa.; and several nieces and nephews, including Steve Marks, of whom she was especially fond.
Besides her husband, she was preceded in death by two brothers, Frank and Joseph Sintic; by two sisters, Helen Sintic and Anna Marks; and a son-in-law, Paul Listopad.
Family and friends may call from 4 to 7 p.m. on Monday, May 6, at Kinnick Funeral Home, 477 N. Meridian Road, Youngstown.
Funeral services will begin at 9:45 a.m. on Tuesday at the funeral home, and continue at 10:30 a.m. with a Mass of Christian Burial at Holy Apostles Parish, Sts. Peter & Paul Catholic Church on Covington Street in Youngstown.
Interment will follow at Calvary Cemetery in Youngstown, where Mary will be laid to rest next to her husband.
Visit kinnickfuneralhome.com to view this obituary and to send condolences online to Mary's family.
Guestbook Entries
"sorry to hear of your Moms passing ,I was just thinking about her and about you Liz.. I was surprised at her age.. she was a very wonderful lady and I love her much..God Bless Mary and her family.. love Betsy "
» Betsy Chockey Henry on May 5, 2013
Betsy
"sorry to hear of your Moms passing ,I was just thinking about her and about you Liz.. I was surprised at her age.. she was a very wonderful lady and I love her much..God Bless Mary and her family.. love Betsy "
» Betsy Chockey Henry on May 5, 2013
Sign the Guestbook
---