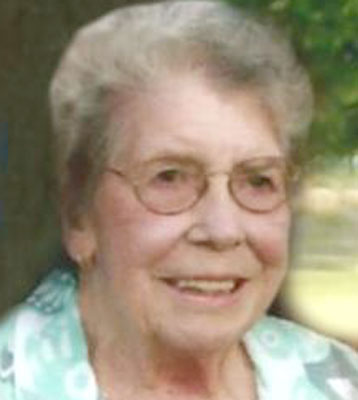 MARJORIE HOUY BOOS BERMAN
HUBBARD – Marjorie Houy Boos Berman, 89, passed away Friday evening, May 3, 2013, at home.
Marjorie was born Feb. 4, 1924, in Youngstown. She was the daughter of John P. and Catherine Bost Houy. She was the youngest of 12 siblings, all preceding her in death.
She is survived by her sons, Jack Boos of Hubbard and David Boos of Hubbard, with whom she made her home; her daughters, Margo (John) Berezo of West Middlesex, Pa. and Kathy (Bob) Kurta of Stow; 10 grandchildren; 14 great-grandchildren; and four great-great-grandchildren.
Besides her parents, she was preceded in death by her husband, Sandford Berman and sons, Dennis Boos and Robert "Luke" Boos.
Her children and grandchildren will remember her sense of humor, her zest for life, her search for knowledge, and heartfelt kindness to everyone. She instilled in them a sense of creativity and wonderment that will carry them all through life.
In the brief time prior to her death, she was blessed with the opportunity to have many of her loved ones visit. Individually they reminisced with her and spoke of the ways she touched each of their lives. Her parting words were that "she had never felt so loved in her life!"
Her family also acknowledges a dear and loving friend and neighbor, Mrs. Geri Revis.
"We thank you for the many kindnesses thru the years." The family would also like to thank Community Caregivers and Mahoning Valley Infusion, Kathleen Morrison and her long time and devoted caregiver, Sherry Koutsoubos. "Sherry and Kathleen, you have both been a true blessing to us."
There are no calling hours or services.
Funeral arrangements are entrusted to the care of the Stewart-Kyle Funeral Home.
Memorial contributions may be made to Mahoning Valley Infusion, 4891 Belmont Ave., Youngstown OH 44505.
"The bustle in a house, the morning after death is solemnest of industries enacted upon earth. The sweeping up the heart, and putting love away, we shall not want to use again until eternity." Emily Dickinson
Family and friends are invited to visit the funeral home's website at www.stewart-kyle.com to share memories and condolences.
Guestbook Entries
"You were the best grandmother. You had the greatest laugh. You were the absolute best story teller. You had the biggest appetite for adventure. You were a kid at heart and I loved that about you. I will forever remember your awesome back rubs and never being able to beat you at Scrabble or Chinese Checkers. Thank you for taking me along on your adventures and loving me. Until we see each other again..."
» Stephanie on May 5, 2013
Sign the Guestbook
---