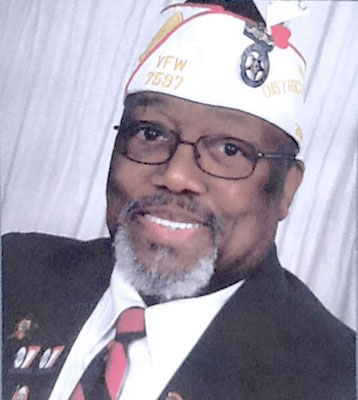 LEONARD FRANKLIN
YOUNGSTOWN – Services will be held Tuesday, May 7, at noon at the New Freedom Missionary Baptist Church, Warren, for Mr. Leonard Franklin, 67, who transitioned from time to eternity on Thursday, May 2, after an extended illness.
Mr. Franklin was born May 23, 1945, in Warren, the son of Benjamin Franklin Sr. and Verna Smith Franklin.
He was a graduate of Warren G. Harding High School in Warren and attended Youngstown State University. He was a veteran, serving in both the Army and Air Force for a total of 27 years. He was employed as scarfer at WCI Steel for 32 years, retiring in 2005.
Mr. Franklin was married to his wife, Raheema, on May 8, 1998. He was an avid fisherman, and loved working on the computer, playing poker and spending time with family and friends. He was a member of the following veterans organizations, VFW Post No. 7597, AMVETS Post No. 0322, American Legion Post No. 0700, Military Order of the Cootie, and Elks Lodge No. 187 of Farrell, Pa.
Besides his wife, Mr. Franklin leaves to cherish his memory and legacy, his sons, Michael Franklin of Florida and Marshane McElroy of New Castle, Pa.; daughter, Michelle Franklin of Warren; brothers, Bobby (Shirley) Franklin of Philadelphia, Benjamin Franklin Jr. of Atlanta, Lee (Roserine) Franklin of Indiana, and Dennis (Diane) Franklin of Warren; and sisters, Claudia (Jake) Ware of Warren and Mary Margaret Weatherspoon of St. Louis.
He was preceded in death by his parents, Benjamin and Verna Franklin Sr.; stepmother, Mae Francis Franklin; brother, Michael Franklin; and stepbrother, Clyde Henderson.
Visitation will be one hour prior to the service on Tuesday, May 7, at 11 a.m. at the New Freedom Missionary Baptist Church.
Interment will be at Pineview Cemetery.
Service of care entrusted to the Sibley-Murray-Wellington Funeral Home of Alliance.
Guestbook Entries
neice
"R.i.H UNCLE BUTCH, I LOVE YOU!!!!!"
» Ya Londa Henderson on May 5, 2013
Reynolds VFW Post 7599
"To the Family and friends of Leonard Franklin: Such a beautiful picture of a beautiful person. My sincerest condolences for such a great loss of your loved one. May you each be comforted and blessed in your time of grief, in knowing that you were loved by Leonard and that he knew he was loved by you. My prayers are with you and I send you peace and blessings. I feel privileged and honored having the opportunity to meet Leonard Franklin. Smile and Cherish the Memories. Sincerely Val W"
» Val on May 6, 2013
"There will only ever be one man like Leonard a true Gem given to this world to show others what a real Man, father, husband and friend should be. He will be sadly missed."
» Tanya Hopkins on May 7, 2013
Sign the Guestbook
---