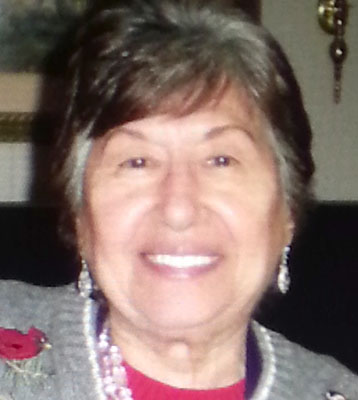 JOSEPHINE MARY 'NENELLE' (LEONE) NAVE
AKRON – On Thursday, May 2, 2013, the Lord called upon one of the most precious, strongest, kind-hearted, unique women on earth to be an angel in Heaven. Josephine Mary "Nenelle" (Leone) Nave, 84, passed away peacefully at home under the careful watch of her daughter, Nancy, along with her family and friends, including her dearest companion, James.
Jo was born March 6, 1929, to the late Thomas Leone and Clara (DiCola) Leone in Youngstown and grew up as one of the "Gibson Girls." In 1954, she married the late Grier Harvey Nave, moved to Akron, and had three wonderful children, Mary (Ron) Brincko, Nancy (Marty) Baker, and her "Baby Boy," Roy Nave (Mon Subba).
Jo is survived by her three sisters, Gloria (Frank) Wielbruda, Ginger (Steve) Kubala, and Mary Reigle; two brothers, Thomas "Bones" (Jackie) Leone and James "Squirt" (Georgia) Leone.
She retired after 25 years of service from Rockyknoll Presbyterian Nursing Home in Akron. Jo was full-blooded Italian so she loved cooking and baking, especially during holidays. She enjoyed crocheting and watching TMC (Turner Movie Classics). She also loved spending time with her grandchildren, Deena (Nathan) Snipes, Jesi Crane (Ethan Shumacher), Tiffany Crane, Sunny Crane, Damon Jones, and her newest grandson, Evan Nave. Jo also enjoyed her three great-grandchildren, Lauren, Lindsie and Christine Newton; and dearest companion, James Walkup.
In such a "small world," she was well-known within the deaf community as a respected member of the Akron and Youngstown Deaf Clubs, the Deaf Outreach Church in Green, and the Deaf Ladies Fraternity.
The family would like to thank Summa Cooper Cancer Center, Hospice staff and Dr. Mehesh for their dedication and support. Also, the family would like to extend special appreciation to Linda Williams and Linda Waisner.
Calling hours will be Thursday from 5 to 9 p.m., at the Newcomer Funeral Home, 131 N. Canton Road in Akron, where a funeral service will be held Friday at 10:45 a.m.
Interment will be at Hillside Memorial Park.
Memorials may be made to Deaf Outreach Church, 2255 Greensburg Road, North Canton, OH 44720.
To leave a special message for the family, visit www.NewcomerAkron.com.
Guestbook Entries
"Nenelle, I will miss you terribly and will always enjoyed the times you would come and stay with me in Youngstown. We had so much fun and have such memories. I will always love you and never forget you. Altho my heart is broken, I still have one special place in my heart for you forever until we meet again. I bet you are so happy you can hear now for the first time and so much enjoyed meeting "Umom". Till we meet again dear sister know that I always loved you and shall never never forget you. "ugly" sister, gingie"
» Baby Sister, Ginger on May 5, 2013
""Aunt Dootha" we loved you so much and will never forget you."
» great niece Gina Kubala and great nephew Vince Kubala on May 5, 2013
"She hears the angels singing Ginger."
» Jule Dunne on May 6, 2013
"Cousin Josephine, although our visits were too few, I will always remember you as being a very accomplished young woman. Margaret and I will both miss you. 'Til we meet again. Your cousin, John Petrovich DiCola"
» John Petrovich DiCola on May 7, 2013
Sign the Guestbook
---