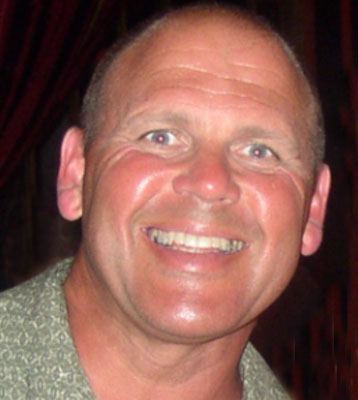 DAVID GARDEN
PERRY – A Mass of Christian Burial for David Garden, 59, will be Wednesday at 11 a.m. at St. Cyprian Catholic Church, 4223 Middle Ridge Road in Perry. The Rev. George Kusy will officiate.
Friends will be received from 1 to 4 p.m. and 6 to 9 p.m. on Tuesday at the Spear-Mulqueeny Funeral Home 667 Mentor Ave. in Painesville.
Born Oct. 6, 1953, in Salzburg Austria, he passed away May 4, 2013, at his home in Perry surrounded by his loving wife, daughter, family and friends.
Dave was a native of Fairport Harbor and a graduate of Fairport Harding High School in 1972. A four-year football letterman in high school, he was an All-Ohio Linebacker and Most Valuable Player of the East Suburban Conference as both a junior and senior. He was also a four-year letterman in track and field where he was the 1971 low hurdle state champion as a junior. He then won both the low and high hurdle state crowns en-route to the Class "A" Most Valuable Player award the following season as a senior.
A 1976 graduate of Youngstown State University where he earned a BSAS in Law Enforcement Administration, he had been employed with the Lake County Sheriff's Office, where he retired as a lieutenant in 2003. He then returned to work in the Court Services Division of the Sheriffs Office. Dave was the SWAT Team Leader for several years, and he was also a training officer for the Lake County Sheriff's Office.
While at YSU, his senior season in 1975 was played under first-year head coach Bill Narduzzi, and he responded by helping the new-look Penguins to a 5-5-0 overall mark. He rushed for a team high 523 yards on 112 carries (an average of 4.3 per carry) and four touchdowns, finishing his four-year career with 20 touchdowns, and 2,521 rushing yards on 540 carries an average of 4.67 per carry. That total is still sixth on the school's all-time rushing legend.
Dave enjoyed golfing, running and weight lifting.
He was a member of St. Cyprian Catholic Church in Perry
He is survived by his wife, Kathryn (Kobus) Garden, whom he married March 3, 1990; a daughter, Michaela Garden of Perry; his mother, Barbara (Mattern) Garden of Fairport Harbor; sisters Rhonda (Frank) Trader of Fairport Harbor, Jill (Keith) Backus of Fairport Harbor; and brothers-in-law Chris Kobus of Cuyahoga Falls, Steven Kobus of Warren, Geno (Cheryl) Kobus of Aurora.
He was preceded in death by his father, Nelson.
Guestbook Entries
ysu teammate
"G Great Person Great Teamate Great Friend Sorry For Your Loss"
» Joe Rich on May 5, 2013
Sign the Guestbook
---