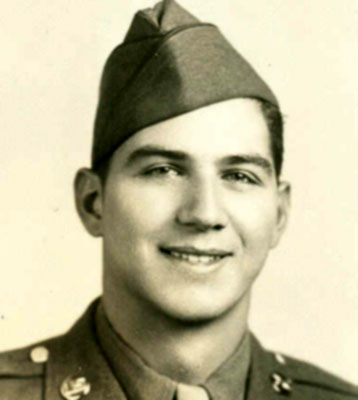 NALDO 'SAM' PENZA
GIRARD – Naldo "Sam" Penza passed away Thursday, March 28, 2013, peacefully at home with his wife and children at his side, following a long battle with cancer.
Sam was born in Girard, on April 9, 1924, to parents Pierina and Sebastian (Sam) Penza.
After attending Girard High School he enlisted in the U.S. Army, serving his county during World War II. He was very proud of his military service and was awarded various medals, including World War II Victory Medal, American Campaign Medal and European African Middle Eastern Campaign Medal with five Bronze Stars. He served with the 978th Field Artillery Battalion. Campaign credits include Normandy, Northern France, Ardennes, Rhineland and Central Europe.
After leaving the service, he continued to raise his family in Girard and work for US Steel Corp. as an Electrician/Motor Inspector, retiring in 1981 after over 35 years at US Steel McDonald Works.
Following retirement, Sam lived a quiet life, enjoying woodworking, card playing, attending flea markets, camping and spending time with his family including, many grandchildren and great-grandchildren.
In addition to his parents, Sam was preceded in death by brothers Lawrence, Enio "Ray," Anthony, and John; and daughter Gayla.
He is survived by Laverne, his wife of 66 years; sister Inis Callard; son Thomas (Lissa) Penza of Canfield; and daughters Lesa (Chris) Soltes of Kent and Renee (Don) Harris of Otsego, Mich. He was a loving grandfather of nine grandchildren and eight great-grandchildren.
He will be loving and sadly missed by all.
Private family services will be held Monday, April 1, 2013. Burial will be at Girard City Cemetery.
Guestbook Entries
"Dear Aunt Laverne, Tom, Lisa and Renee, You have my most sincere sympathy. He was the last of the Penza boys, and my last uncle. He was a very sweet and generous man and will be greatly missed by all. He's now with Gayla and his brothers. Heaven is rockin'. Love, Carolyn"
» Carolyn Penza on April 3, 2013
"Our thoughts and prayers are with you and your family during this difficult time. "
» Albert Kinkela on April 4, 2013
Sign the Guestbook
---