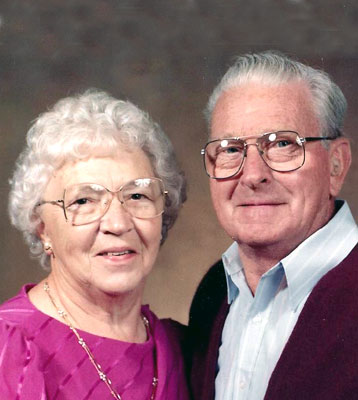 MADALYN S. GARROD
"Together Again"
COLUMBIANA – Madalyn S. Garrod, 97, formerly of Park Court, passed away Tuesday evening of congestive heart failure at Parkside Healthcare Center surrounded by her family.
She was born on March 20, 1913, the daughter of Thomas and Alice (Crook) Anglemyer of Leetonia. 
Madalyn graduated from Fairfield High School in 1934.
She married Wilbur H. Garrod on Oct. 19, 1935. Wilbur and Madalyn owned and operated Whispering Pines Golf Course, from which they retired in 1981. 
She was a homemaker, raising six children, and a lifelong resident of Columbiana. She belonged to the First United Methodist Church in Columbiana and was a past Sunday school teacher. She was active in the Order of the Eastern Star of Ohio. 
Madalyn enjoyed singing, flowers and spending time with her family. She also spent many winters in Tavares, Fla.
Madalyn leaves to cherish her precious memory, two daughters, Donna (Larry) Kannal of Kent and Sharon (William) Crabill of East Palestine and four sons, Kenneth J. (Kay) Garrod of Ashtabula, George T. Garrod of Columbiana, David W. (Peggy) Garrod of Athens and Wilbur H. (Deborah) Garrod Jr. of Columbiana. She also leaves 18 grandchildren and 37 great-grandchildren.
She was preceded in death by her parents, Alice and Thomas Anglemyer; her husband of almost 60 years, Wilbur, who passed away on Sept. 8, 1995; two sisters, Marion and Gladys; five brothers, Russell, Byron, Joseph, Harry, and Thomas; grandson Kevin Garrod; and great-grandson Tristan Garrod.
Services will be held at 11 a.m. on Tuesday, April 2, 2013, at the Seederly-Mong and Beck Funeral Home in Columbiana, 154 South Elm St., with the Rev. Paula Archdeacon officiating.
The family will receive friends from 6 to 8 p.m. Monday, April 1, 2013, at the funeral home. Interment will follow at Columbiana Cemetery.
The Seederly-Mong & Beck Funeral Home in Columbiana has been entrusted with the arrangements.
In lieu of flowers, Mrs. Garrod requested that material contributions be made to the American Cancer Society, P.O. Box 22718, Oklahoma City, OK 73123-1718.
Family and friends are invited to visit www.seederly-mongandbeck.com to sign the online guestbook or to send private condolences.
Guestbook Entries
"Dear Will and family, God Bless your loving Mother as she returns home. We are thinking of you and keeping you in our prayers. Love and miss you, Lauren and Al Perrotta. "
» Lauren Perrotta on March 30, 2013
Sign the Guestbook
---