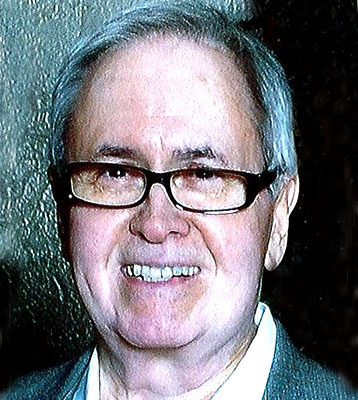 DAVID W. HOWELLS
LAKEWOOD – David W. Howells, 75, passed away at 7:52 a.m. on Thursday, March 28, 2013, at the Lakewood Hospital following complications with pneumonia.
He was born in Niles on Jan. 27, 1938, the son of David and Lydia (Francis) Howells.
He was a 1955 graduate of Niles McKinley High School and attended Youngstown State University and the American Institute of Banking at Ohio University.
He was a six year member serving in the Ohio National Guard. David was employed for 22 years by Second National Bank of Warren, which he served as branch manager. After moving to the Cleveland area, he worked as a branch manager for Charter One Bank in South Russell. Following his retirement from banking, David worked at Franklin Plaza in Cleveland.
David was raised in the First Christian Church of Niles, where he was a member of the choir for many years. He sang in the church's first performance of "Joseph and the Amazing Technicolor Dreamcoat." David was an enthusiastic traveler who had many domestic and international adventures, including trans-Atlantic trips on the QEII and the supersonic Concord.
David is survived by a sister, Shirley Stephens of Niles; three nieces, Marilyn (Dean) Gintert of Leland, N.C., Jill (John) Miller of Howland and Leslie (Judson) Millhon of Columbus; and two nephews, Roger (Margaret) Baldwin of Okemos, Mich. and Thomas (Susan) Stephens of Columbus.
David took an active role in the lives of his nieces and nephews and great-nieces and nephews, planning special events and outings for birthdays and holidays or when they visited from out of town. Each enjoyed special times with "Uncle David" and treasured those memories.
He was preceded in death by his parents and two sisters, Mary Jane Howells and Pearl Baldwin.
Calling hours will be Monday, April 1, 2013, from 1 to 2 p.m. at the Holeton-Yuhasz Funeral Home in Niles.
The funeral will follow at 2 p.m. at the funeral home with the Rev. Dr. Bernard Oakes officiating.
Burial will be at Niles City Cemetery.
In lieu of flowers, memorial contributions may be made to the Lakewood Hospital Foundation, Floor 1B, 14601 Detroit Ave., Lakewood, OH 44107.
Visit www.holetonyuhasz.com to send condolences.
Guestbook Entries
« Be the first to sign DAVID W. HOWELLS guestbook.
---