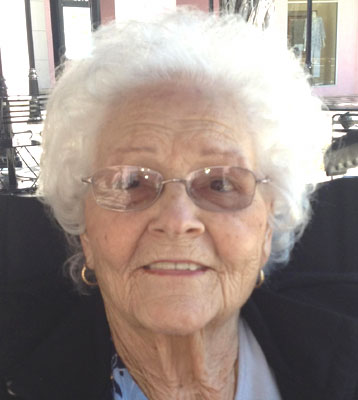 DORIS V. RICH
HILLSVILLE, PA. - Doris V. Rich, 87, passed away peacefully on Monday, March 25, 2013, at UPMC Presbyterian Hospital in Pittsburgh, with her loving family at her side.
A lifelong resident of Hillsville, Mrs. Rich was born Dec. 21, 1925, in Hillsville, a daughter of Edward and Levada Henderson Petrick.
She was a graduate of Bessemer High School and worked as a secretary for the former family business, L.J. Rich & Sons Paving. Doris was also a homemaker, who enjoyed sewing, shopping, and spending the winters with family and friends in Florida. She was a member of the Christ Our King Parish at St. Lawrence Church in Hillsville.
Doris was a very kind, caring, and generous woman, who will always be kept close to her family's heart and will never be forgotten.
Her husband, Lawrence J. Rich Sr., whom she married March 30, 1948, died in September of 2001.
She leaves to cherish her memory, her son, Lawrence (Mary) Rich Jr. of Poland; seven grandchildren, Melanie (Chris) Boling of St. Paris, Lauren (Mark) Sterle of Akron, Michael (Aislyn) Rich of Hillsville, L.J. (Nikki) Rich III of New Castle, Pa., Leslie Gonsalves, Greg (Mindy) Gagliano, and David Gagliano, all of Hillsville; and four great-grandchildren, Lydia Rich, Maria Boling, Alliyah Gonsalves, and Wiley J. Gagliano.
In addition to her parents and husband, Doris was preceded in death by her son, Michael Rich; sister, Hazel Drapp; and brother, Edward Petrick.
Private services were held today for the family at the Davidson-Becker Funeral Home in Struthers.
Interment will be at Our Lady of the Holy Rosary Cemetery in Lowellville.
Please visit www.beckerobits.com to send condolences.
Guestbook Entries
« Be the first to sign DORIS V. RICH guestbook.
---