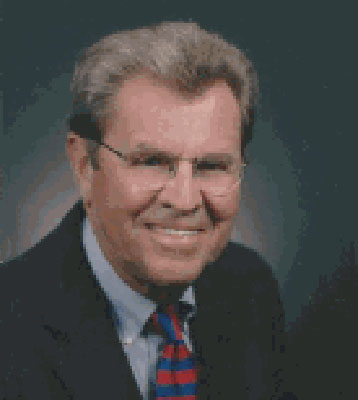 ARTHUR L. STUCKEY
CINCINNATI – Arthur L. Stuckey passed away peacefully on March 23, 2013, at the age of 87.
He was preceded in death by his parents, Raymond Russell Stuckey and Lillian Swallen Stuckey; his wife, Ann Wagoner Stuckey in 1992; and his sister, Arlene Stuckey Gempler.
He was the loving father of Lynn (Bill) Trau, David (Linda) Stuckey, and James (Patricia) Stuckey; grandfather of Megan (Scott) McGill, Scott Trau, Mark Stuckey and Michael Stuckey; and great-grandfather of Evelynn McGill.
He is also survived by brother-in-law, Robert Gempler; nephew Eric Gempler; and niece Amy Gempler (Joe) Novogratz.
Arthur was stepfather to Haley (Kenneth) Burroughs and Chad Koch and step-grandfather to Ian Koch, Erika Koch and Zachery Burroughs.
Arthur was a former Executive Vice President of GF Business Equipment in Youngstown and owner of Livingston's Office Furniture in Tampa, Fla., which was once recognized as one of the INC 500 "fastest growing companies." He was a Paul Harris Fellow, and a longtime member of Tampa Rotary and Tampa Bay Bridge Club. Arthur was a member of the Idlewild Baptist Church and a former member of the Tampa University Club. He was a resident of Temple Terrace for over 37 years and was an avid Buccaneer fan and season ticket holder since 1977. He was a philanthropist for organizations such as The Greater Alliance Foundation and the Community Foundation of Tampa Bay.
Born and raised in Alliance, he was the president of the Alliance High School Class of 1943 and also would be fondly remembered by many as the President of the school's Bachelor's Club. Arthur was a Denison University graduate.
He had a strong work ethic, loved music and traveling, and was awarded Life Master in bridge in 2007. He treasured his family and friends and considered himself fortunate to have lived a wonderful life.
In lieu of flowers, memorial donations may be made to The Greater Alliance Foundation, 960 West State St., Suite 130, Alliance, OH 44601, for the support of the Stuckey Interfaith Child Development Center or the Stuckey Family Fund at the Community Foundation of Tampa Bay, 550 North Reo St., Suite 301, Tampa, FL 33609.
A memorial reception will be held on Wednesday, April 3, from 5 to 7 p.m. at The Kenwood by Senior Star at 5435 Kenwood Road in Cincinnati.
Memorial services are being held on April 13, at 11:30 a.m. at the Fairmont Memorial Park Chapel, 4199 S. Union Ave. in Alliance.
A Celebration of Life Reception is also planned for April 19, 2013, at Café Don Jose, 12350 N. 56th St. in Tampa from 5 to 8 p.m.
Guestbook Entries
« Be the first to sign ARTHUR L. STUCKEY guestbook.
---