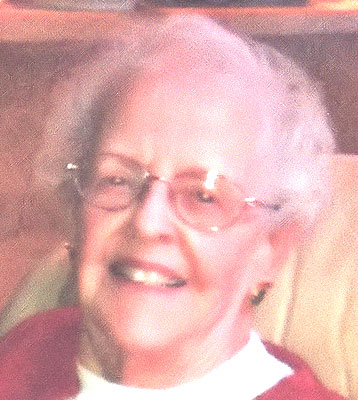 LOUISE A. BARKER
NEW WATERFORD – Louise A. Barker, 89, formerly of Youngstown and Washington, D.C., died at 4:50 p.m. on Saturday, March 23, 2013, at St. Elizabeth Health Center in Youngstown.
Mrs. Barker was born March 8, 1924, in Washington, D.C., a daughter of George and Alice Hanson Jacobson and moved to Youngstown in 1955 and the Columbiana area in 1989. 
She was a homemaker and an administrative assistant in both the public and private business sectors for many years, retiring in 1984. She was a member of the New Waterford United Methodist Church.
Her husband, Charles D. Barker, whom she married April 9, 1949, died June 4, 2006. 
She is survived by a daughter, Carolyn (Bruce) Mook of East Palestine; two sons, Charles "Les" Barker of New Waterford and George (Lisa) Barker of Huntington Beach, Calif.; a sister, Eleanor Jacobson of Silver Spring, Md.; four grandchildren, Benjamin (Nicky) Mook of Spring Grove, Pa., Rachel (Doug) Nickalson of Okeechobee, Fla., Lauren Barker of Columbia, Mo., and James Barker of West Lafayette, Ind.; and seven great-grandchildren.
A brother, Robert Jacobson is also deceased.
Funeral services will be held at 11 a.m. on Saturday, March 30, 2013, at the New Waterford United Methodist Church with Pastor Terry Brown officiating. 
Burial will follow at New Waterford Cemetery. 
Friends may call from 3 to 7 p.m. on Friday at the Van Dyke-Swaney-Rettig Funeral Home in East Palestine.
Memorial contribution may be made to either the New Waterford United Methodist Church or Hospice of the Valley.
Please visit www.familycareservices.com to sign the register and to send condolences.
Guestbook Entries
retired railroad sales manager
"to the family i have known your monther and father since the late 1950's when your father worked for the aar and your familey lived on market street in youngstown ohio, we have exchanged Christmas cards and stayed in touch through the years it is with great sorrow I read abouth your monthers passing in the on line Vindicator this evening, my prayers and thoughts are with both her and your father may they be together again in Gods loving hands."
» peterwjancar on March 27, 2013
Sign the Guestbook
---