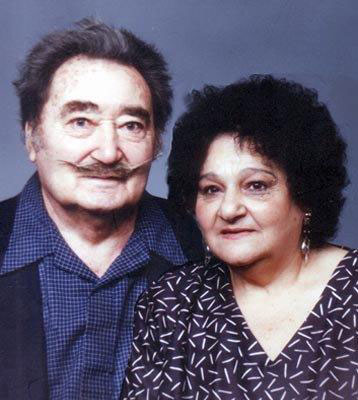 MARY ANN MARTUCCI
"Together Again"
YOUNGSTOWN – Mary Ann Martucci, 92, of the city's west side, passed away peacefully Tuesday afternoon, March 19, 2013, at St. Elizabeth Health Center in Youngstown.
Mary Ann was born Dec. 27, 1920, in Youngstown, a daughter of the late Ralph and Ernestine Cappolla Letizio, and was a lifelong area resident.
She was a homemaker and worked for 30 years for Packaging, Inc., retiring in 1986.
Mrs. Martucci was a member of the former Our Lady of Hungary Church. She enjoyed cooking, baking, flowers and gardening, and crocheting, and she enjoyed the time she spent with her family, especially her grandchildren.
Mary Ann's husband, John P. Martucci, whom she married on June 29, 1939, passed away Jan. 17, 1998.
She leaves her son, Anthony Martucci of Youngstown; two daughters, Columbia Etta Lyon and Elizabeth (George) Radowick, both of Youngstown; three grandchildren, John (Kimberly) Martucci of Vienna, Marla Mitchell of Youngstown, and Lisa Jo (Doug) Kachurek of Youngstown; a great-grandson, Gabriel Martucci of Vienna; a brother, Samuel Letizio of Campbell; and two sisters, Jenna Clevidence of Youngstown and Vera (Larry) Yount of California.
Besides her husband, she was preceded in death by two sisters, Elizabeth Naples and Viola Lane.
Family and friends may call from 5 to 8 p.m. on Sunday, March 24, at Kinnick Funeral Home, 477 N. Meridian Road, Youngstown, where a prayer service will be held at 7:30 p.m.
Funeral services will begin at 10 a.m. on Monday at the funeral home, and continue at 10:30 a.m. with a Mass of Christian Burial at Holy Apostle Parish, Sts. Peter & Paul Catholic Church on Covington Street.
Interment will follow at Green Haven Memorial Gardens.
Visit kinnickfuneralhome.com to view this obituary and to send condolences online to Mary Ann's family.
Guestbook Entries
mrs
"Our sympathies go to all of Mary's family. We will miss such a wonderful lady, and we feel honored to have been her neighbor for twenty two years. "
» carol cool on March 24, 2013
"I also enjoyed the visits I had with Mary when I lived in Ohio. The knowledge and wisdom from Mary hopefully will be passed on as there wasnt just too many like her. I will miss this person. "
» shawn on April 1, 2013
Sign the Guestbook
---