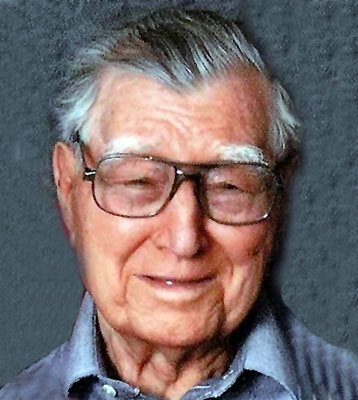 JOSEPH R. TOTO
STRUTHERS – Private services were held Friday at the Clemente Funeral Home for Joseph R. Toto, 103.
Joseph was born Nov. 6, 1909, in Girard, a son of Carmine and Louise Riccio Toto.
He was a lifelong area resident and worked at the Youngstown Sheet and Tube Campbell Works for 46 years and retired as a machinist in 1975.
He married Mary Corsetti on Sept. 24, 1931.
He was a member of Christ Our Savior St. Nicholas Church in Struthers.
Joseph leaves one son, William C. (Patricia) Toto of Waynesburg; two daughters, Mary Lou (Joseph) Durick of Struthers and Nancy Hokanson of Struthers; eight grandchildren; 14 great-grandchildren; and one great-great-grandchild.
Joseph was preceded in death by his parents; his wife, Mary, who died May 23, 1995; one daughter, Shirley Bielicki; a brother, William "Pete" Toto; and two sisters, Frances "Rose" Carol and Carmella Toto.
The family wishes to thank the staff of Comfort Care and Grace Hospice for the kind and compassionate care they extended to Joseph.
In lieu of flowers, Joseph's family requests that donation in his name be made to the American Cancer Society, 525 Broad St., Canfield, OH 44406, or to Grace Hospice, 7206 Market St., Suite B, Youngstown, OH 44512
Please visit www.ClementeFuneralHomes.com to view this obituary and to send condolences.
Guestbook Entries
"To Mary Lou, Nancy and Jan and Joe: We send our sincere sympathy and know that in this time of sorrow you have many wonderful memories to treasure. You were blessed to have such a wonderful person in your lives and that is why you are all so kind and loving."
» Patsy & Frank Thornton on March 23, 2013
"My deepest sympathy to Nancy and all the Toto family in your time of sorrow."
» Bonnie Heasley Harper on March 23, 2013
"Mary Lou Toto Durick, I'm sorry for your loss. With your genes you may outlive us all. George Freeman Tiffin, OH"
» George Freeman on March 23, 2013
Sign the Guestbook
---