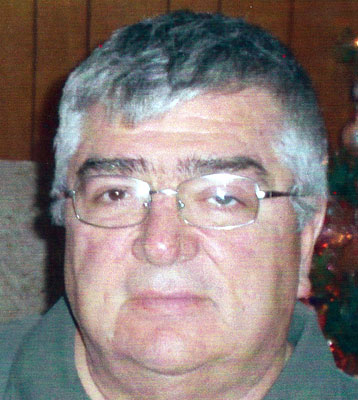 JAMES F. 'JIM' COSS
POLAND – James F. "Jim" Coss, 64, passed away Wednesday afternoon, March 20, 2013, at St. Elizabeth Health Center in Youngstown, surrounded by his loving family.
Jim was born April 16, 1948, in Youngstown, the son of William J. "Buck" and Kathryn "Kay" (Smalleck) Coss.
He was a 1966 graduate of Lowellville High School and a 1974 graduate of Youngstown State University, where he majored in Elementary Education. He retired in 2012 from RG Steel after 43 years of service. Jim was a member of Our Lady of the Holy Rosary Church. Jim was a family man who always put others before himself. He enjoyed cooking, going on cruises and vacationing to Walt Disney World with his family. He truly cherished time spent with his wife, children and grandchildren.
Jim will always be lovingly remembered by his wife, the former Mary Jo Latessa, whom he married Dec. 12, 1970; his daughter, Julianna (Thomas) Stefek of Poland; son, Kevin Coss of Youngstown; two grandchildren, Alivia and Alex Stefek; brother, David (Helen) Coss of New Middletown; two sisters, Nadyne (Thomas) Sweetko of Las Vegas and Debbie (David) Notareschi of Las Vegas; and mother-in-law, Nora Latessa of Youngstown.
Besides his parents, Jim was preceded in death by his father-in-law, Charles Latessa.
Friends may call on Sunday, March 24, from 4 to 7 p.m. at the Rossi Brothers & Lellio Funeral Home, 4442 South Ave. in Boardman and again on Monday, March 25, from 9 to 9:30 a.m. at the funeral home, followed by a 10 a.m. Mass of Christian Burial at Our Lady of the Holy Rosary Church in Lowellville with the Rev. John Jerek celebrating the Mass.
Family and friends may visit the Book of Memories at www.rossifunerals.com to view this tribute and to send condolences to Jim's family.
Guestbook Entries
"Loving hugs, prayers and thoughts to the family"
» Jim and Debbie Sheely on March 23, 2013
"My deepest sympathy to the Coss family. Your husband, dad, and brother is a huge part of my memories of LHS and our Class of '66. Jamie was a great, great friend to me, and to all of us. I will always remember his kindness, his beautiful smile and his tremendous laugh. God bless all of you at this time of sadness."
» Alice Cuzic on March 23, 2013
"My deepest sympathy to the Coss family. Your husband, dad, and brother is a huge part of my memories of LHS and our Class of '66. Jamie was a great, great friend to me, and to all of us. I will always remember his kindness, his beautiful smile and his tremendous laugh. God bless all of you at this time of sadness."
» Alice Cuzic on March 23, 2013
"My prayers to the family sorry for your loss"
» sharon noble(saad) on March 23, 2013
"I am so sorry for your loss. Uncle Jim was a very special man. Sending many prayers to you all during this trying time. "
» Kimberly Coss on March 23, 2013
"Jim really enjoyed life and kids, mine just loved him. So sorry Mary Jo, Kevin and your entire family."
» dave roberts on March 24, 2013
"He was truly an influence having grown up with the Coss's. Sharing a birthday with him, we've even sent each other lottery tickets every year since I can remember, next month I'll miss getting the card and family update for sure. I also was fortunate enough to visit Disney World as a kid with the best guide around, and recently took my kids there, telling them stories of when I went with the Coss family 20+ years ago. I was crushed when I heard this terrible news last night, he showed us from day one how to be kind people and great dads. Mrs. Coss, Kevin & Julianna, I send my deepest condolences. "
» Ben Roberts on March 23, 2013
"Very sorry for your loss. I worked with Jim at WCI Steel. Jim was always a pleasure to work with and be around. Again my deepest condolences."
» Bob Duracky on March 26, 2013
"Our deepest sympathy. We will keep you in our prayers."
» Gina and Nicole Latessa on March 26, 2013
Sign the Guestbook
---