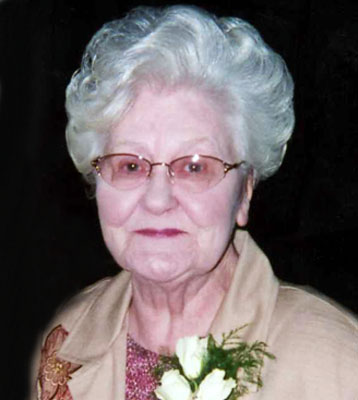 CLARICE 'MEMAW' CIOTTI
BOARDMAN – A Mass of Christian Burial will be on Monday, March 25, 2013, at 10 a.m. at St. Charles Church for Mrs. Clarice "Memaw" Ciotti, 82, who died Thursday morning at The Commons.
Clarice Ciotti was born Sept. 16, 1930, in Tuscaloosa Ala., the daughter of James South and Clysta Bigham South.
She graduated from Northside High School in Tuscaloosa in 1938. She attended the Capstone School of Nursing in Birmingham, Ala. and graduated as a registered nurse. While attending nursing school, she trained at Massillon State Hospital and met her future husband, Joseph Ciotti, whom she married Nov. 16, 1953.
She became a public health nurse in Charleston, W.Va. In 1958 they moved to Youngstown. She eventually went to work at Woodside Receiving Hospital, becoming the night supervisor and worked there for over 25 years.
Clarice was known as "Memaw" or "Momma C" to everyone. She was a fantastic cook, famous for making delicious meals and her pecan pies. She had a fantastic wit and would make everyone laugh. She was a longtime member of the Tripoli Card Club and considered those friends as sisters.
She was a member of St. Charles Church in Boardman.
Her husband passed away March 22, 2002.
She is survived by her children, J. A. (Frances) Ciotti of Youngstown, Melanie (Nicholas) Shirilla of Boardman, and along the way she found two other children who she considered her own, Margaret (Tom) Bero of Poland and Timothy (Donna) Sincock of Raleigh, N.C.; grandchildren, who were the light of her life, include Joseph Ciotti of Akron, Gabrielle Ciotti of Youngstown, Tiffany, Christa and Eric Shirilla of Boardman, Aaron (Jennifer) Bero of Pasadena, Calif., Mandi (Doug) Bero-Musser of Canfield, and Joshua Bero of Poland; seven great-grandchildren; and two sisters, Helen Jane (Joseph) Hunt of Tuscaloosa and Sue (Ed) Bennett of Coker, Ala. There are numerous nieces and nephews.
Friends may call Sunday from 2 to 5 p.m. at the Higgins-Reardon Funeral Homes, Boardman-Canfield Chapel.
Memorial contributions may be made to All Caring Hospice, 6715 Tippecanoe Road, Building B, Suite 101, Canfield, OH 44406.
Guestbook Entries
"I'm sorry for the loss of your mother. I will keep her in my prayers for the repose of her soul. Many prayers for you as well."
» fr greg maturi on March 23, 2013
Sign the Guestbook
---