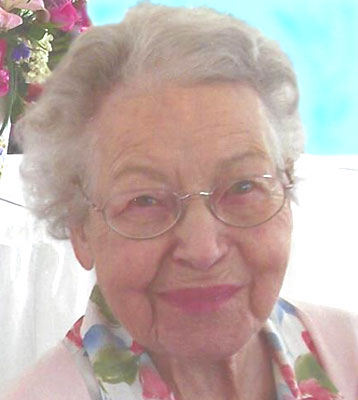 RUTH J. WAYLAND
NORTH LIMA – There will be funeral services on Monday, March 18, 2013, at 11 a.m. at the Thompson Funeral Home, 4221 Market St., Boardman, for Ruth J. Wayland, 95, formerly of New Buffalo Road, Canfield, who died Thursday morning, March 14, 2013, at Briarfield Manor.
Ruth was born April 18, 1917, in Youngstown, the daughter of the late M. Carl and Anne (Miller) Horne.
She graduated from South High School in 1935 and lived in the Youngstown area her entire life.
Ruth was a member of the Pleasant Grove Presbyterian Church, Youngstown and attended the Paul Easton Church at Glenellen, North Lima.
Her husband of 58 years, Ralph J. "Red" Wayland, whom she married on June 29, 1940, died May 7, 1999.
Ruth is survived by a son, William J. (Sandie) Wayland of Austintown; a daughter-in-law, Sandy L. Wayland of Boardman; a sister, Elaine D. Cane of Boardman; four grandchildren, Jeff (Karen) Wayland of Castle Rock, Okla., Doug (Kelly) Wayland, Melissa (Kevin) Crump, and Shawn (Stacy) Wayland, all of Austintown; and 13 great-grandchildren, Bethany, Cory, Danielle, Andrew, Alyssa, Courtney, Rachel, Grace, Joshua, Ryan, Meghan, Luke and Patrick.
Besides her parents and husband, Ruth was preceded in death by a son, Robert C. Wayland; and a sister, Grace McKenzie.
Family and friends may call today, March 17, 2013, from 5 to 8 p.m. at the Thompson Funeral Home, Boardman and one hour prior the service on Monday at the funeral home.
The family requests that material tributes take the form of contributions to the Paul Easton Church at Glenellen, 9661 Market St., North Lima, OH 44452.
Please visit www.Thompsonfh1932.com to view this notice and send condolences.
Guestbook Entries
caregiver and friend
"My deepest sympathy to all of Ruth's family. Just know that she will be missed...and though it was my job to provide her with care, she became my friend and we even share the same birthday! She was very special to Me and I always gave her my best which I know she appreciated. She thanked me often, but I loved doing anything for her that would make her day less of a struggle. I will miss you! Rest in Peace my friend!"
» Andrea Savastano on March 17, 2013
Sign the Guestbook
---